By April Giannosa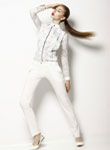 Retailers and fashionistas of the world have a lot to be excited about for spring, as so many fabulous trends are upon us. There is something for everyone, and retailers do not have to wait to start incorporating these hot looks into their product lines. What follows are the top trends that were spotted on the runways for spring 2014, and how you can start selling them now.
White on white
White is always a fresh, crisp choice for spring. On the runways, designers showed head-to-toe white, statement-making outfits, as well as beautifully detailed white blouses, which will be a staple for the spring. Winter whites offer an equally classic look. To sell this look in the late winter, suggest black ankle boots to buyers, and a white scarf or cream coat. Come spring, tell customers to ditch the layers and trade those booties for metallic sandals.
Metallics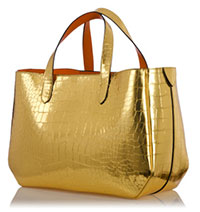 Gold and silver are going to be a hit in 2014. Whether it is a bold, gold metallic dress or a jacket with shiny details, retailers should get in on selling this luxury look. Metallic paired with thick black tights can make any gold or silver dress appropriate in cooler weather.  Metallic jewelry and handbags will be popular accessories for party or daytime ensembles.
Crop tops
For spring 2014, crop tops are going to be in full effect. Trendsetters these days are wearing them with higher waisted pants, skirts or shorts. Think no belly button exposure. With just a tasteful amount of skin showing, some ladies will be seen wearing their crop tops in more of a business setting.
Shear and mesh
When the harsh winter ends, fabric choices get lighter, more shear and layered.  Mesh fabric will be another big trend.  Expect ladies to wear these see-through items with some sort of bralette, crop top or camisole. Display a lightweight sweater under a mesh top to show how women can rock this look on cooler days, too.
Iridescent
Springtime is known for pastels, and you can expect to see them make an appearance again next season. This year's pastels are going to be in shiny satin and shimmery fabrics, perhaps taking a cue from the metallic trend. If your customers go for major impact pieces, sell iridescent, show stopping dresses. For those a little less risk-taking, offer it in accessories like a holographic clutch.
Hints of pink
Pink is still hot, so be sure you have some in your store. Blush blazers, pastel pink pants, and bubble-gum pink crop tops paraded the runways in fun shades.