By Monika Kochhar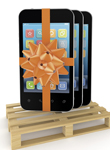 A satisfied gift giver becomes a repeat customer, the happy recipient becomes a new customer, and both introduce new consumers to the retailer that supplied the original gift." –Carrie A. Johnson, Forrester Research
Winning and retaining customers is the cornerstone of success in the hyper-competitive and rapidly evolving world of e-commerce. It's also the most expensive and challenging aspect. Today's e-commerce manager must constantly embrace innovative technologies and ideas to stay ahead. Curiously, we need only look to one of humanity's oldest customs to uncover what is a multibillion dollar opportunity in e-commerce: the gift exchange.
Gifting is a self-perpetuating system of reciprocity that creates an enormous demand for consumer goods. It also creates an opportunity for brands and retailers to acquire and convert more satisfied customers, which in turn leads to increased sales. E-commerce managers must constantly navigate a maze of solutions. The most important question to answer is: What is your gifting strategy? Do you have one?
1. Why gifting is such an important e-commerce business driver.
One in five transactions in your e-commerce store is a gift purchase, and gifting is the only transaction that automatically brings two customers to your online store. Are you taking advantage of this?
2. How to leverage the behavioral science behind gifting.
Gifting is a complex and crucial part of human interaction that helps define relationships and strengthen bonds. There is actually science behind gifting that has been studied for ages and holds important insights into how you use gifting in your store.
3. Which opportunities exist in moving beyond gift cards.
E-gifting is the natural improvement to the gift card and has emerged as a lucrative play for retailers. It is expected to grow from $300 million in 2012 to more than $10 billion annually by 2016. Do you understand e-gifting, and are you ready to benefit from this growing market?
4. How data can inform smart e-commerce gifting strategies.
Leveraging data is fundamental to a retailer's growth and success. While e-commerce businesses see uplifts around major holidays, most have scarce to nonexistent gifting data. Why is this a critical piece to the e-commerce puzzle?
If you'd like to read more about how gifting can fuel success for your e-commerce store, we invite you to read our free ebook titled This is a Gift: An E-Commerce Manager's Guide to Gifting. This resource is useful for anyone responsible for acquiring customers and optimizing e-commerce sales, as well as senior level executives looking to spark strategic thinking and planning related to gifting within larger e-commerce initiatives.
At SmartGift, we help e-commerce executives and discover how gifting can have a positive effect on their sales. Retailers cannot afford to overlook or underestimate the powerful opportunities in gifting. In this ebook, provide actionable insights to propel your business forward.  Please visit
www.smartgiftit.com
.