When David Alden headed into his workshop searching for a "solution to my own problem," he had no idea his invention would end up with a wildly successful start-up business. His problem was a common one: tangles of cords for all his various devices.
"I went to my workshop and started experimenting with tape measures, retractable dog leashes, and even the cord retractor in my wife's vacuum," he remembers. "I came up with a working prototype. When I showed it to friends and family, they were excited and said I should start selling it."
The resulting Recoil cord winder is a simple idea. It consists of a spring-loaded winder that instantly organizes cords on a spool, then makes it easy to pull the cord back out to use it. They come in three sizes that will handle cords for everything from headphones to laptops and chargers. The most popular product, however, is a combo pack with three winders that can act as an organization hub for devices.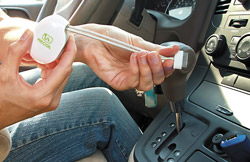 From the early days, it was clear there was a strong market demand for a product like this. "After I built the prototype, we launched a Kickstarter campaign in September 2012 to raise capital," Alden said. "We had a goal of $10,000 in 40 days, but we actually raised $142,000 and had taken pre-orders for 16,000 winders. It was immediate validation of the concept, and since then the market has responded."
The Recoil winders are great products for electronics shops, cell phone stores, convenience stores, travel and gift shops—basically anywhere people who own devices shop.
How to Buy Products
Recoil winders are available through the company's website or via phone. Wholesale customers must first fill out a simple dealer application. Once approved as a wholesale customer, there is no minimum order. The winders can be purchased individually and displayed on retail pegs, or they can be ordered in point-of-sale displays that are preloaded with 10-36 winders, depending on the display. The display options include hanging displays and countertop units. "The displays are included free in the order," Alden advised. "When it's done, you throw it out and order a new display."
The individual winders are all priced at $4.99 at the wholesale level, regardless of their size. They retail for $9.99 each. The popular three-winder combo pack includes the Recoil Rack that holds and organizes the winders.