By Jeff Hermanson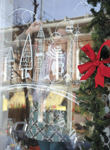 In the era of online shopping, flash sales and Black Friday madness, some shoppers are yearning for something different. They desire nostalgia, personalization, and a fulfilling in-store shopping experience this holiday season.
As proof, I have personally witnessed how creating true holiday whimsy can still captivate shoppers on my walkable retail district, Larimer Square in Denver. Larimer has become the city's most famous block and a holiday icon in Colorado because it offers something that can be hard to find elsewhere: true holiday charm.
This recipe can be replicated by other independent retailers who desire to create a different approach to the frenzied holiday shopping experience. Here's how:
1. Create a true holiday experience.
Shoppers can find deals and sales virtually everywhere at this time of year. But in far fewer places can they have a memorable holiday experience while shopping. Think carriage rides, twinkle lights, windows painted with holiday scenes, visits with Santa, strolling carolers and more. These are modest investments retailers can make to impart an enjoyable shopping experience during a chaotic season.
2. Focus on local and authentic.
Mass-produced products are ubiquitous, and shoppers can find them much cheaper online. So retailers who are able to should stay away from these goods and offer merchandise that is truly original and unique. The demand for locally produced products is also very high, and retailers can wow their shoppers with a carefully curated selection of items produced in nearby communities. Socially conscious and sustainably made gifts also demonstrate extra thought and compassion by the shopper to the recipient.
3. Personalization pays off.
Nothing makes an impression quite like a personalized gift. Retailers would be wise to offer customizable merchandise at the holiday season…from bespoke menswear to personalized jewelry or custom ornaments. This ensures that holiday shoppers can find unique gifts for everyone on their holiday lists.
4. Good service is always in style:
Sadly, many shoppers have become accustomed to the harried experience of shopping in crowded malls and mega stores, where customer service is rushed or nonexistent. A simple smile and hello from a store employee can make a lasting impression. Even better, attentive help in finding the right gifts for their lists will wow your customers more than you may realize. Make sure employees are encouraged and incentivized to go above and beyond with customer service, especially at this time of year.
5. What's old is awe-inspiring:
Whether it's the architecture, vintage signage or antique street lamps, setting a mood for holidays past is bolstered by historic retail settings. This obviously isn't possible for all retailers, but for those that are considering demolishing an old building or reinstalling a more modern façade, perhaps reconsider keeping those original, unique touches.
A thoughtfully produced holiday shopping experience can inspire feelings of warmth and joy with your shoppers. And that can trump all else at this time of year, even those blaring Black Friday discounts.