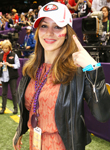 If you want proof that America is crazy about sports, you only need to look at the numbers: in 2013, North Americans (including both the United States and Canada) snapped up $13.4 billion in licensed products from major sporting leagues, not including collegiate sales. This represented a 2.3 percent increase over the previous year. When you add sales of collegiate products in, the total market value swells to $18 billion.
Within this huge number, there is a dizzying array of opportunity for retailers of all sizes and venues, from independent stores to online retailers to high-end boutiques. The key, say licensing experts, is to choose the right array of products for your customers, whether that means apparel and shoes, video games, toys, accessories, electronics, or any of the other thousands of licensed products.
"The beauty of the sports licensing market is no matter where you are, you always have a fan base to drive into your store all year long," says Liz Crawford, vice president and group show director of the Sports Licensing and Tailgate Show. "If it's not football, it's basketball, hockey, or baseball."
According to The Licensing Letter, a leading industry newsletter, football and baseball alone account for almost half of all licensed products sold in North America. The rest is divided between the National Basketball Association, NASCAR, National Hockey League, PGA, and Major League Soccer (see sidebar).
Women's Products Still Making News
For many stores, running a successful licensed program is as simple as stocking jerseys from popular players or branded apparel from stalwart teams like the New York Yankees or Boston Red Sox, which tend to sell even in bad years and even outside their fan areas.
According to the experts, however, even in a small program like this, it's possible you're leaving sales on the table by ignoring the most rapidly growing target of opportunity: women. One of the major stories of the past decade in this segment has been the huge growth of sales to women for licensed products. This is the only piece of the market to achieve consistent double-digit sales growth, and manufacturers have raced to get in on the action. If you need further proof, consider this: Victoria's Secret has even launched a line of licensed products representing professional sports leagues.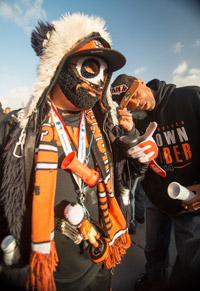 "A decade ago, most of the leagues thought of the women's market as women going out and buying a men's XXL size shirt and wearing it as a nightshirt," said Ira Mayer, executive editor of The Licensing Letter.  Then came Alyssa Milano, best known for her TV roles in Who's the Boss and Charmed. In 2007, Milano got tired of the "pink it and shrink it" attitude toward women and, through a series of connections, pitched her Touch line of licensed products to Major League Baseball. Her line of apparel had been specifically created for women, with silhouettes, colors, themes, and shapes that would appeal to a female buyer. It was tough at first, according to press reports, and Milano had a hard time convincing the sporting world she knew anything about selling licensed products. She couldn't get her products into any stadiums or official events. So in 2008, she launched the Touch line online—and to everyone's surprise, sold out her first collection in eight weeks. Since then, licensed products aimed at women have been the most robust, most consistently growing sector of the market.
"We're in the process of continuing to add new licensees that target women," advises Steve Scebelo, vice president of licensing and business development for the NFL Players, Inc., which represents group licensing rights for player-branded products. "We just signed one new licensee, Spirit Activewear that does apparel in resorts and is aimed at women."
Crawford confirms that she's seeing a lot more interest in women's products on the tradeshow floor. "We're seeing more colors, sizes, and shapes for women," she says. "I was in a Victoria's Secret close to where I live and they had merchandise from University of Southern California and UCLA. Who thinks to go into Victoria's Secret to buy sports apparel?"
The Tale of the Tape
Outside of the women's segment, the sports licensed market is a "mature" market, meaning that its growth generally tracks the larger economy. This means when you're considering adding or expanding your licensed product line, you'll basically be dealing with two questions: which leagues, and which products? The answer depends on where you live and who your customers are.
First, there's nothing like w inning to stoke sales for a local team or even particular player. The NFL Players, Inc., keeps careful track of the most valuable players in terms of merchandising, updating its numbers every quarter.
"It's always important to know who is on top of that list," Scebelo says, noting that the list is available on the company's websitefor interested retailers. "There's usually a good mix in the top ten of the established, top-tier players and new guys who are having a great season."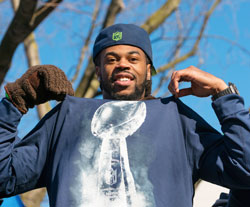 Who is at the top of the list in the most recent quarter? Russell Wilson, quarterback of the 2013 Seattle Seahawks Superbowl championship team. Top ranked players don't just move apparel, Scebelo says. They increase sales of everything from toys like bobbleheads to Fathead wall murals.
No matter what the league, "a winning team is always better than a losing team," Mayer notes. "If your team wins any title, it will always have a positive effect. However, the more winning a team is, the less impact that will have year after year."
Besides jumping on the winning team bandwagon, independent retailers need to look for other ways to differentiate themselves—partly because it's too hard to compete with the big-box retailers like Walmart and national sports retailers like Dick's Sporting Goods, which have the shelf space and buying clout to stock huge displays and offer deep discounts.
One area of opportunity, according to Mayer, is the thriving collectible market. Depending on how you define "collectible," this segment of the market easily surpasses a billion in annual sales, and there are plenty of interesting and new products coming out every year.
"For most retailers, I would start with collectibles, or I might do upscale apparel and jewelry," Mayer advises. "Collectibles generally have a higher mark-up and you can create interesting new products yourself. So you can take a trading card and combine it with a jacket and a backpack and suddenly you've created a new product and given it added value. Put a spin on it to create something unique."
One of the best ways to keep your finger on the pulse of new product introductions and get ahead of the competition is to attend tradeshows and regularly check with the leagues and player associations to keep abreast of new licensing news.
At NFL Players Inc., for example, Scebelo can reel off new licensees offering everything from human-like plush toys to collectible vinyl figures to ugly sweaters and knit socks. All of this information is available through the website, making it easy to stay current with the best new products.
Tradeshows, too, offer excellent opportunities to uncover cool new products. "We have an online matchmaking tool and you can schedule appointments ahead of time," Crawford says of the Sports Licensing and Tailgate Show. "Then once you're onsite, the key is to walk the whole floor and visit as many booths as possible. You can't know what's new unless you visit every single booth. Tradeshows can help you spot trends and have the product no one else has so you can get a leg up."
Which League Is on Top?
The race for consumer dollars is on, with major sporting leagues vying to come out on top in the crucial merchandising category. In 2013, with $13.4 billion in merchandise sold for professional teams, Major League Baseball barely edged out its long-time rival, the National Football League, to lead the pack as the most lucrative league.
The real drama, however, happened further down the leaderboard, with the National Hockey League recovering from its lockout season and posting a 10.6% increase in sales in the 2012-2013 year, and the NBA enjoying a 6.8% increase in overall sales.
But the biggest gain was posted by Major League Soccer, which saw an increase in merchandise of 13.5 percent, driven by a broad increase in soccer's popularity in the United States that saw an increase in the number of teams, number of fans, and growing live attendance.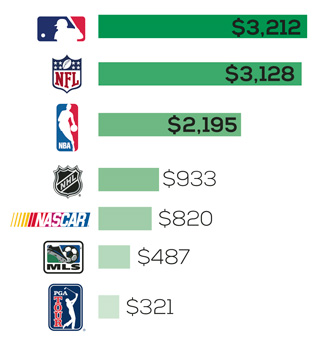 The big loser—and in fact the only professional sporting league to see a decline—was NASCAR, which posted a disappointing 5 percent decrease in licensed product sales, according toThe Licensing Letter. This is likely caused by the same factors that have plagued NASCAR for the past decade, which have contributed to falling attendance at events, reduced ticket sales, and smaller TV audiences.
Here are the numbers for the 2012-2013 season (in millions):
Major League Baseball: $3,212
National Football League: $3,128
National Basketball Association: $2,195
NASCAR: $820
National Hockey League: $933
PGA Tour: $321
Major League Soccer: $487
NFL Players Tweet for You
How would it feel to have an active NFL player tweet to his fans about your store?
Not too long ago, this kind of personal endorsement was only available to companies with the deepest of pockets—but not anymore. According to Steve Scebelo, vice president of licensing and business development for NFL Players, Inc., they[DC1]  recently launched an easy-to-use, affordable program called Activate that makes it possible for even mom 'n' pop shops to afford brand name endorsements.

The process is simple: you log onto NFLplayers.com/activate and scroll down a list of 300 active NFL players participating in the program. Each player is ranked according to their social media fan base, team, performance, overall merch value, and other factors. The result of this ranking is a price for having that player personally endorse your store or product.
If you find a player you like and can afford, you submit a request describing your product or store, which the player will review. If he agrees, he'll take care of the rest.
"It's easy and painless," Scebelo says. "There's no negotiation. No dealing with agents and players' reps. It's all taken care of."