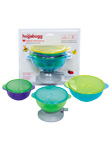 Hugabugg® inventor Michael W. Handerhan tells Independent Retailer, "One of the biggest complaints I hear from parents is how stressful meal time is with young children. This really hit home for me as I have a nephew with autism and I saw how difficult it was for my sister during meal time," he explains. "There are many products on the market with suction cup plates and bowls, but our kids are stronger than those products. There had to be a better solution."
Having worked in manufacturing for the last twenty years and building vacuum cups for other companies, Handerhan knew that the holding power in vacuum suction cups would be more than enough for mealtime. "The challenge," he says," Was how to incorporate everything into one system. I wanted to design something modular and interchangeable so that it could be easily used anywhere at any time. After a lot of trial and error, I finally found the right combination of staying power and interchangeability." Thus, the Hugabugg® system was born.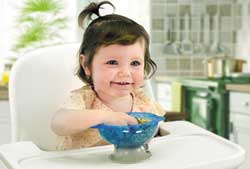 The Hugabugg® feeding system is a solution that reduces mealtime spills and messes. It is easy to use, BPA free, and the bowls and lids are dishwasher and microwave safe. The patent pending vacuum cup system provides superior suction and is like nothing else on the market. "Our patent-pending system allows any combination of our bowls to be removed from the vacuum cup easily, without sacrificing the holding power of the system," says Handerhan. "The next step was making sure the bowls would be functional for both parents and kids. We found the right combination of sizes and colors and made sure all the bowls had leak-proof lids. Last but not least, we designed all of our products to be BPA-free and PVC-free. Our mission is to provide the healthiest and easiest feeding experience possible for our little ones."
Hugabugg® comes in retail packaging that lets consumers purchase products individually or as a complete set in the Hugabugg® Family Box. Handerhan tells Independent Retailer, "The Family Box is a popular gift item." The company continually releases new products. For more information visit www.hugabugg.com.