NY Now was held August 19th – 23rd at the Javits Convention Center in New York City. The market is known for a wide selection of new and popular home, lifestyle, and handmade products. The show attracts retailers large and small from all over the country to meet with the makers, artisans, inventors, and producers of mid-range retail items. In addition to household names like C.O. Bigelow, Metropolitan Museum of Art, and Penguin Random House, NY NOW has an increasing number of independent and fair trade exhibitors. Collections included jewelry, accessories, gifts, health and wellness products, décor, and so much more. The following are some of our favorite gift and souvenir finds from the summer 2017 NY NOW.
Maptote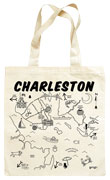 Maptote's flagship product is a cotton tote with schematic maps of cities with landmarks, icons, and neighborhoods. The totes are made with US Cotton and printed right in Brooklyn, New York. They have partnered with many national retailers including JCrew, Martha Stewart, Urban Outfitters, and West Elm. They now offer totes, wine totes, and pouches in many sizes. There are over 64 maps to choose from including states, cities, and neighborhoods. The practical products with fun designs are the perfect gift and souvenir item.
Maptote
Tel.: (347) 799 – 2255
Website: www.maptote.com
---
Donovan Designs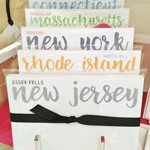 Donovan Designs is a stationery company owned and operated by two college friends, Sarah and Katie, out of their warehouse in Columbus, Ohio. The simple, classic, and fun-loving designs show off state, city, and zip code pride on notepads, cards, luggage tags, and more. All products are designed and assembled in Ohio.
Donovan Designs
Tel.: (614) 337 – 0944
Website: www.donovandesignsinc.com
---
gLove Treat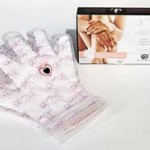 gLove Treat was invented by a salon owner looking for an easier, more effective, and tidier solution to treat hands and feet in the spa and at home. The gLoves contain paraffin wax, coconut oil, and lavender essential oils. The gLoves heat up in the microwave in minutes to deliver a hydrating, relaxing, and soothing experience that has been endorsed by influencers and media outlets including Oprah, The View, and InStyle. This fun item makes a great gift and impulse buy for almost any retailer.
gLove Treat
Website: www.glovetreat.com
---
Up With Paper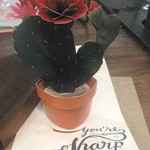 Up With Paper is best known for its innovative, three-dimensional greeting cards, which have been "wowing" senders and recipients alike for more than 30 years with intricate designs, premium artwork, and unexpected pop-ups. The company's greeting cards are available for all seasons and sending occasions. Their designs are currently in many mom and pop, independent, and specialty retail locations nationwide. Playful and sophisticated cards are great for celebrations, holidays, and gift giving. This year's collection includes a diverse array of trendy and timely greetings with lights, sounds, gift pouches, and more.
Up With Paper
Tel.: (800) 852 – 7677
Website: www.upwithpaper.com
---
America & Beyond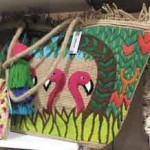 America & Beyond offers garments, bags, and accessories with spirited accents and colorful details. National retailer Forever 21 has recently picked up some of their apparel and accessory items. At NY NOW America & Beyond showcased their Spring and Summer 2018 line with dresses, tops, and cover-ups with tassel and fringe detailing. Their collection of backpacks and tote bags featuring pineapples, flamingos, and pom-poms were a real show-stealer. These trendy pieces are a great fit for warm-weather gift and souvenir stores as well as apparel and accessory retailers.
America & Beyond
Tel.: (404) 539-6499
Website: www.americaandbeyond.us
---
SoapRocks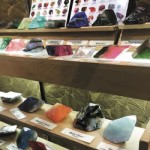 SoapRocks are vegetable based soaps modeled after gems, geodes, crystals, quartzes, amethyst, and more. The lifelike soaps are crafted out of gentle vegetable bases with herb extracts, vitamins, and minerals. Each rock lights up under water and fades away with use like a stream stone fades away with geologic time. SoapRocks has been in business for decades and sells their products to Bloomingdales, Anthropologie, Urban Outfitters, and Hallmark in addition to local gift, souvenir, and beauty stores. SoapRocks are an easy gift-giving item or as a quick way to spruce up your bathroom sink. SoapRock products contain no animal ingredients and are not tested on animals.
SoapRocks
Tel.: (800) 762-7765
Website: www.tspink.com
---
Green Blanky Studios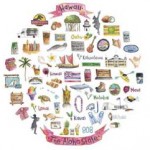 Green Blanky Studios presents "Homegrown Magic," a series of hand painted watercolor prints that showcase a city or state in a fun, whimsical way. The image is printed on 12″x12" heavyweight Bristol paper. The prints are available for over 40 locations and make for a playful and one-of-a-kind souvenir. Green Blanky Studios can also accommodate custom orders. Everything is produced in their studio in North Carolina.
Green Blanky Studios
Tel.: (513) 207 – 5085
Website: www.greenblankystudio.org