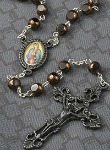 For retailers and gift shops carrying religious goods, religious icon wholesaler Iconeum has hundreds of fast selling items that appeal to a wide-ranging audience. Company President Jerry Cwiklik founded the company in 1994 after a trip to Poland. "We found a manufacturer there and created an outlet for them," he recalls. "We decided to carry their whole line, and it was very well received at the Catholic Marketing Network show in California, as we offered the broadest range of religious icons from anyone presenting at the show."
Right now, Iconeum targets religious stores but is finding an eager audience at general gift stores as well. "We offer hundreds of different products," Cwiklik says. "We're finding our Catholic items, including rosaries, jewelry, and bracelets, are our best sellers." Cwiklik says that most items he carries sell for double the wholesale price at retail.
One item the company is seeing strong sales for is its new, patented Rosary Card. "It's a prayer card with an image on the front, printed on the same stock as a credit card, and the same size too," Cwiklik says. "On the back is an image of the rosary, with the beads raised like they were Braille dots," he adds. The card is available with more than 60 different images on the front, and is also customizable for special orders. "We have a program for fundraisers, where qualified customers can get the cards for no money up front," Cwiklik says. "Then, when their fundraising is over, they pay us for them out of the funds they raised. It's quite easy and fair for everyone." The company markets the Rosary Card as a "credit card to Heaven."
Minimum orders from Iconeum are only $100, and new customers get a 20 percent discount off their first order. "Customers should check back often, because we're always adding new products to the site," Cwiklik says.
For More Information:
Iconeum
P.O. Box 571
Mohegan Lake, NY 10547
Toll Free: 800-741-7754
Website: www.iconeum.com