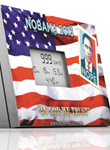 For those Americans more than a little concerned about the direction the country is taking, Countdown Productions has just the thing, a clock that counts down how many days are left until President Obama's current term of office expires. "Being an independent business person, and seeing what the current administration is doing to small business people, the sooner he's out of office the better," says Countdown founder and president, Larry Wells. "We just have a little over 700 days left until we get some relief," he adds.
Once the included batteries are inserted and the actual time set, the Nobama 2013 clock counts down the days, hours, minutes and seconds left until inauguration day 2013. "For those tired of healthcare and other issues being jammed down our throats, it shows how much time we have left until it's over," Wells says. With the current economic climate and Republican and Tea Party victories in last November's midterm elections, Wells believes he's tapped into a sentiment that is echoing throughout the land. "We've had a number of companies approach us about carrying our line, and we're very excited about what the future may hold for us," he says.
Started only recently, Countdown Productions is fast drawing attention with its clock and ironic, "Nobama 2013," message. Its website, Nobama2013.com, also features buttons, mugs and oval window stickers with the ironic wording, "Nope," in big block letters, a play on the Obama campaign's extensive, "Hope," message that was so prevalent in the 2008 election campaign. The "Nope" wordplay is drawing attention to the coffee mugs and window stickers, which are strong sellers for the company as well.
The Countdown Clock wholesales for only $10 and retails between $17.99 and $19.99. "It's been a huge seller with one of our big customers, PatriotDepot.com," Wells says. "They consistently order more from us." Countdown requests a minimum order of 50, but Wells believes anyone who orders will sell out quickly. "Just read a newspaper to see what's going on in Washington," he says.
For more information:
Countdown Productions
P.O. Box 4509
Chattanooga, TN 37405
Tel.: 423-757-4988
Toll Free: 877-764-2013