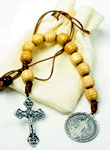 Jerry Cwiklik launched Iconeum LLC in 2003 with a line of religious icons that are hand painted, hand assembled holy image wall art that never tarnishes. Since then, he has expanded Iconeum's product line to include crucifixes, figurines, pins, bracelets, rosaries and more. "We have a supplier in Poland, a country with many Catholics and many companies that sell religious merchandise," Cwiklik explains. "The company we work with is one of the best in the business."
Iconeum specializes in rosaries and has a large selection of about 200 different kinds, most of which are boxed. "Rosaries are a religious tool used to meditate and pray," Cwiklik points out. "Some people like to wear rosaries as necklaces, so they feel closer to God, and we have a line of those, as well as rosaries for walls. We offer rosaries that are affordable yet high quality," he says. Wholesale prices range from $5 to $6 and suggested retail prices vary from $13 to $15.
One of Iconeum's more popular rosaries features St. Benedict, the patron saint of Europe and students. The Wood Bead St. Benedict Rosary on Cord is available in both black and brown. The cord is 20 inches long, and the crucifix is three inches in length. "These do quite well, and people tend to hang these larger rosaries on the wall. They can be used as necklaces as well," Cwiklik notes.
The company will be adding Bibles and statues to its line of merchandise. "Our customers are religious and general retail stores, convenience and dollar stores, kiosks, flea markets and online retailers. Many have expressed more and more interest in Bibles and statues, so we are expanding our line to accommodate their interest," Cwiklik says. Iconeum has a $100 minimum order, and customers can return any item within 30 days if not satisfied.
For more information:
Iconeum LLC
PO Box 571
Mohegan Lake, NY 10547
Tel.: 800-741-7754
Website: iconeum.com