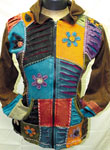 All That Jazz, wholesaler of a vast array of products including comforter sets, blankets, sheets, home décor and women's apparel, is expanding its newest line of handmade Nepal imports. In addition to the company's popular Nepal purses, available in more than 130 styles, All That Jazz is introducing Nepal jackets and hoodies in a huge variety of styles, and in sizes from small to 4X. "The Nepal jackets are handloomed," explains Anu Sahni, owner.
Piece goods are cut in a small factory in Nepal and given in job lots to artists, women who do the embroidery in their homes. The fabric then goes through a dying process and jackets are assembled back at the factory. Because artists draw the images on fabric pieces with a stencil and hand run the embroidery, no two jackets are exactly alike. "The Nepal jackets bring a bit of Asian flavor to the West by a cottage industry, not by big factories like in China and India," Sahni points out. "These items are literally sustaining small areas of Nepal, and yet we're able to sell them for so little." Jackets wholesale for $15 to $18 and retail for $39.95, and purses wholesale for $7.50 to $8.50 and retail for $15.99 to $24.99, depending on the venue. "They are already very popular," Sahni adds.
Another popular seller is the company's line of licensed acrylic "mink" blankets, featuring among others, Disney, NFL, MLB, NBA, NHL, Harley-Davidson, Playboy and NASCAR designs and emblems. Blankets are available in two sizes, 60 by 80 inches and 79 by 95 inches. All That Jazz has a minimum order of $200 and offers volume discounts when retailers buy by the pallet or truckload. The company takes pride in going to the source of the product to provide exceptional value and quality. It is committed to offering excellent customer service, shipping orders received before 3 pm the same day, and providing a pleasant shopping experience. In addition to purchasing online at the company's website, All That Jazz welcomes retailers to visit its home store in Sturgis, MI, where they can peruse the company's merchandise. The home store is just six miles away from the company's 160,000 square foot corporate offices and warehouse in LaGrange, IN.
For more information:
All That Jazz
1200 N. Detroit Street
LaGrange, IN 46761
Tel.: 260-585-8018
Web: www.allthatjazzonline.com