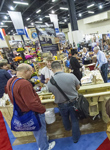 By Susan Mills and Jerry Meyer
"As we at IGES® prepare to celebrate 17 years in the Smokies this November, we want to take a moment to extend our sincere thanks and gratitude to you, our loyal buyers and exhibitors, for your support of shows throughout the years. You have contributed greatly to our success and we sincerely appreciate your friendship and your many kindnesses. As we join forces with Emerald Expositions and look ahead to 2017, we wish a very successful, productive and enjoyable year to each of you and, on behalf of IGES® and Emerald Expositions' staff and management, we look forward to seeing you in November in the Smokies."-Susan Mills and Jerry Mayer, IGES
IT'S SHOW TIME!
The International Gift Exposition in the Smokies (IGES®) will open its doors to buyers from thousands of retail resorts and souvenir shops again this November 1st – 5th, 2016, offering the widest variety of custom souvenirs and new resort merchandise imaginable. Located in the heart of the Smoky Mountains, in Pigeon Forge and Sevierville, Tennessee, it is the perfect destination for souvenir buyers from the most heavily populated regions of the U.S. As IGES® is truly a National Event, buyers and vendors will be in attendance from across the U.S., as well as Canada & the Caribbean.
"There is no other place in the world where a souvenir buyer can see such a concentrated number of souvenir vendors and souvenir products all at the same time in one trip." – Rick Conway, Squire Boone Village
Celebrating 17 years of success this November, IGES® has established itself as one of the nation's premier regional tradeshows. With 600+ vendors – nearly 200 NEW this November alone – spanning two beautiful convention centers, IGES® continues to showcase the most sought-after companies in the industry alongside those that are up-and-coming, providing attendees an opportunity to experience the best of the Smokies and beyond. With general gifts and souvenirs available at both convention centers, Sevierville is home to IGES's specialty Made in America and Handcrafted Section.
Come and enjoy the many amenities for which IGES® is known. From complimentary breakfasts and luncheons, order-motivated events and daily giveaways, buyer events are much anticipated at IGES. Whether at our annual buyers' reception, various mixers or networking dinners throughout the week, IGES® encourages networking often and early. Take advantage of sponsored functions to optimize your time and network with industry peers from across the country.
November in Tennessee is a beautiful time of year. Allow yourself plenty of time to settle in and settle down where the pace is slower, the sights are sweeter and business and pleasure go hand in hand. Join IGES® this November 1-5 to see and experience it all.s For the latest information or to register for the 2016 International Gift Exposition in the Smokies, please call 1-800-430-7608 or visit www.iges.us and follow IGESShow on Facebook & Twitter.