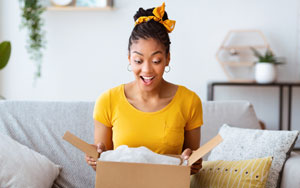 Last year gave many brands no choice but to accelerate their ecommerce strategy and find new ways to reach and retain customers. For many, adding subscriptions to their business provided predictable recurring revenue, when much else was not predictable. According to new research from Bold Commerce, more than 70 percent of retailers have, or soon will, integrate subscriptions into their ecommerce strategies, while more than half say that subscriptions make up 20 percent or more of their total sales.
Subscription Services Can Build Long-Term Relationships
Subscription services are something many brands offer, where customers make an advanced payment in order to receive or participate in a buying opportunity. This subscription can come in the form of monthly curated product boxes, or special services that shoppers can receive online or in store, such as discounts. Bold Commerce, which works with over 90,000 retail brands, including Vera Bradley, Staples, and Pepsi's GameFuel, surveyed 800 brands to gauge their current use of subscription programs and understand how they are attracting and retaining subscribers. The new report, "Subscription Trends 2021," shares insight into how subscriptions have evolved beyond just a convenient way to get products, and a way to build long-term relationships with customers that generate long-term revenue.
"At Bold, we are really beginning to notice that brands are starting to understand the value of subscribers over one-time buyers," Jay Myers, co-founder and VP of growth at Bold Commerce, said. "They are important for initial conversion, but when you understand the value of the customers, you can learn a lot more.
The 3 Pillars of Subscription Services
Myers says there are three main points that retailers should be aware of to create a strong membership program: Curation, Replenishment, and Access.
Curation – Curated subscription boxes are more personal to the consumer who is signing up for the program. This can be a new article of clothing per month, wine, or food. Retailers should really know what their customers like in order to curate their subscription.
Replenishment – This box will have items such as coffee, shampoo, or deodorant that consumers typically need to repurchase often. With replenishment subscriptions, customers can have certain items sent to their house every month without having to take a special trip to the store.
Access – Layering in some form of access each month, such as exclusive products, tutorials, or personal zoom calls with a stylist or sales associate can really add more value to the subscription service. The more access you give consumers, the less likely they are to cancel a subscription service.
"Traditionally, subscription brands would see themselves as just one of these three major points, but the ones who do really well incorporate all three. It all comes down to value — the discount is what gets the customer in the door, but the value is what keeps them for the long term," Myers said.
Areas of Subscriptions Where Retailers See More Growth
According to Bold Commerce's report, retailers are seeing the most growth with the 'randomized products' subscription model. Brands who declared randomized products as one of their subscription models (39%) reported 50 percent or more growth rates month-over-month than other models. Randomized products fall under curation, where the products are random, or curated to what the customer is actually getting.
Other areas of growth for subscription services as stated in the report is when retailers incentivize their subscription program with small discounts. More specifically, 20 percent of brands who offer discounts as part of their subscriptions offerings reported month-over-month growth rates higher than 50 percent, compared to 14 percent of businesses that do not. Furthermore, 57 percent of brands that offer loyalty programs reported an average customer lifetime of a year or more, while only 35 percent of brands without a loyalty program reported the same average customer lifetime.
How Subscriptions Saved This Ice Cream Business
According to a Bold Commerce case study, Chaeban Ice Cream started an ice cream club with Bold Subscriptions that not only saved them from bankruptcy during COVID-19, but also created a continuing stable revenue stream. The artisanal shop opened their doors in 2017, but quickly found in March of 2020 that they would have a hard time surviving the pandemic since they had to shut down during their busy season.
A quick email poll out to their customer list revealed potential for the idea of a subscription-based ice cream club. They set up a Shopify store, installed Bold subscriptions, and saw customer sign- up's continue to climb every day. With hundreds of unfulfilled orders, Chaeban hired back all of their staff and turned their focus to increasing production and timely delivery.
"Customers crave memberships, and since the pandemic hit, we have only seen this need grow," Myers said. "Offering something with a compelling value that is exclusively for members works even better for independent retailers because they have an opportunity to offer something that bigger brands cannot, such as access to speaking with the founders and local member-only events."