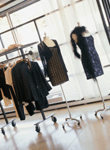 For one grand prize winner, 218 Clematis Street in Downtown West Palm Beach, FL will become home for a new retail business as a result of The Great Shop Showdown competition, which kicked off July 1. While entries are to be submitted through July 31 before choosing a finalist, a Pop Up Shop installment is planned to be held July 22 to July 31, from 11 AM to 9 PM EST, occupying the soon-to-be retail property. As the Great Shop Showdown coincides with Independent Retailer Month, the West Palm Beach Downtown Development Authority (WPB DDA) has agreed on the temporary boutique.
A Fashionable Introduction to Independent Retail
Furnished by Design Within Reach, the space will be showcased to the public, making them familiar with the up and coming retail location. GlobalFashionBrands.com, a social ecommerce site for connecting savvy shoppers to independent designers, and partner, Farasha Boutique, a women's retail clothing and accessories pop up concept, are working with local businesses to support independent fashion design, providing Downtown shoppers the chance to make the up-and-coming fashion part of their wardrobe. "West Palm Beach pop up is a collaboration effort that will offer consumers an exclusive shopping experience, highlighting unique apparel, jewelry and accessories featuring diverse and global emerging designers in a one of a kind fashion lounge setting," says Vanessa Di Palma Writght, CEO of Farasha Boutique.
An engaging week of consumer activities and promotions will include:
Daily Ten:
The first 10 shoppers each day will receive a goodie bag worth over $75, including KROMA Makeup, Kiss Everlasting French Nails, Farasha purse hanger, etc.
Beauty Bar:
From July 22 to 24, VIP pampering by The Sanctuary Salon and Spa will be available for shoppers who spend over $50.
Rock Your Feathers:
Customers will sip on Blue Feather Vodka cocktails and learn how to style their looks with the latest feather trends.