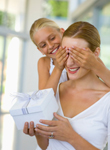 According to an eBillme's Online Spending Index released early in the second quarter of 2010 (Q2), online retail spending was forecasted to be up seven percent in the Q2 of 2010, compared with first quarter spending. Fifteen percent of about 1,500 survey respondents said they planned to spend more on gifts for Mother's Day versus 2009, compared with just ten percent planning to increase spending for Father's Day gifts. Furthermore, 25 percent of respondents planned to shop online for gifts for Mom, but only 21 percent for gifts for Dad.
With the market making a slight turnaround from economic hardships, what kind of crowd do you expect to come browsing your shelves for Mother's Day this year? According to the National Retail Federation's (NRF) 2011 Mother's Day Consumer Intentions and Actions survey, "the average person celebrating the holiday is expected to spend $140.73 on gifts, up from $126.90 last year, and a return to 2008 spending levels."
Independent Retailers Will Benefit
Jewelry is always a popular gift option for mom. In a 2010 interview for Independent Retailer magazine, Guy Andrews, CEO of Plum Island Silver, a sterling silver jewelry wholesale distributor, affirms that one wholesale category that survived the economic downturn, and again gaining momentum, is jewelry. Andrews confirms, "Earrings were very popular this year. We had a good recovery over the past year, and business has been steadily gaining." This Mother's Day is no exception as the NRF reveals that, "31.2 percent of celebrants [are] planning to buy mom silver, gold or diamonds, up 19 percent from last year. Total spending on jewelry is expect to reach $3.0 billion."
For those other retailers hoping to see an influx of customers as the holiday is rapidly approaching, the NRF has some good news for you too. Particularly, independent retailers either selling electronic and mobile devices, or utilizing them in a new advertising campaign, will be happy to know that, "Those buying electronics will shell out $94.91 on smartphones, cameras and even tablet devices, up eight percent from $87.70 last year." It is no surprise that keeping mom connected on the go is a priority on a lot of shopping lists, as the craze for smarphones and applications continues. For example, Portio Research Limited's report, "Mobile Applications Futures 2010-2015" forecasts, "The global mobile applications user base is expected to grow at a compound annual growth rate of 37 percent between 2009 and 2015 to reach nearly 256 million by the end of 2015."
Who Will Benefit, Online or Brick and Mortar?
Although consumers undoubtedly have new shopping behaviors, as they use other innovative channels to research, select, transact and collect products, the popularity of online shopping shouldn't make brick and mortar retailers uneasy this holiday. A recent BizReport column, examining the NRF survey, claims that, "despite the rise in spending, department stores continue to be the favored place to shop for Mother's Day gifts….One third of shoppers will head to specialty stores such as florists and jewelers, 30 percent will head to discounters…." All in all, Mother's Day is looking prosperous for both moms and merchants.