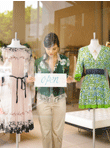 Mary Portas, the U.K.'s publicly recognized authority on retail and brand communication, presents a satisfying resume and a career history of cash registers, shopping bags, How-to books, and reality retail TV. Portas' 20 plus years of experience and insight from inside and outside the U.K.'s High Street shops has favorably positioned her as the analyst for the Future of High Street. Equivalent to Main Street USA, High Street represents the U.K.'s focal point for shops and retailers in city centers. The challenge posed by the Prime Minister and Deputy Prime Minister, has graciously been accepted by Portas, looking to bring back the bustle to the U.K.'s town centers and prevent clone towns run by chain stores.
U.S. based American Independent Business Alliance, a national nonprofit organization, presents a pro main street and pro local platform much like Portas, campaigning for the purchase of products from independent retailers. Portas, however, has become a one-woman defender, building her impressive alliance via her Facebook and Twitter accounts. With close to 15,000 Facebook fans and a continuous streaming Twitter feed, support for Portas and her work are evident, and she wants to hear what people have to say. On her personal website homepage, Portas declares, "I am calling on businesses, local authorities and shoppers to contribute their ideas on how we can halt this decline in its tracks and create town centers that we can all be proud of."
The Challenge Ahead for Portas and Independent Retailers
Portas also mentions on her website, "With town center vacancy rates doubling over the last two years the need to take action to save our High Streets has never been starker." A report published by the Ernst & Young Item Club confirms the challenge ahead, forecasting U.K. High Street spending will not return to pre-recession levels until 2013, and consumer spending is only expected to rise by about two percent each year until 2020. In a BBC report, U.K.'s Prime Minister, David Cameron, appears determined to falsify this forecast, saying, "The High Street should be at the very heart of every community, bring people together, providing essential services and creating jobs and investment; so it is vital that we do all that we can to ensure they thrive."
To read more about Mary Portas, visit her official website at www.maryportas.com. To read more about the Future of the High Street, check out this BBC News article.
Editor's Note: Mary Portas has initiated a Forum for those independent retailers to speak out about the state of the U.K.'s High Streets. I'd like to do the same for those independent retailers in the U.S. who would like to offer an observation, insight, initiative or idea for our Main Streets. Enter a comment below.