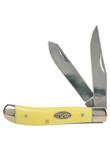 A study of the Northeast Cutlery Collectors Association, as well as the other handful of cutlery clubs and organizations, reveals an extensive and passionate community of collectors. Oklahoma based Wuu Jau Co., Inc., has been supplying this growing community since 1984, with its offer of wholesale collector and cutlery items. Although initially popular among flea market vendors and other traveling vendors, Wuu Jau has become a wholesale supplier to an expanding number of independent retailers, who own and operate travel stop shops, convenient stores, gift shops, among other brick and mortar stores.
Among its product lines, Wuu Jau carries knives, swords, daggers, Zippo lighters, crossbows, and even security equipment. Its continued top sellers, pocket knives, generally sell around $5 wholesale, with a suggested retail price dependent on the market. Scott Harris, Art and Design for Wuu Jau, explains, "I've seen pocket knives sold double the wholesale price at $10, and sometimes around $20 to $25. It all depends on the market and type of customer each retailer is selling to." Among its other hot items, are fantasy collector items such as the Excalibur Sword, and a complete line of fantasy daggers, taking on the shape of eagles, dragons, scorpions and more.
Customer Deals for Collectible Purchases
Harris mentions that Wuu Jau offers all wholesale pricing on its website, but no MSRP as it supplies to an extensive and diverse group of vendors and retailers. For those visiting the website, there is also the opportunity to place your order online, making you eligible for an online only special in which orders $500 and over get half price shipping, and orders $1000 and over receive free shipping. Other deals extending to all sales include breaks on case purchases and monthly package deals, in which a bundle of items are offered at a cheaper price. All first time buyers, however, must place a minimum order of $200. For those customers on the West coast, merchandise also can be purchased from Wuu Jau's California distributor and sister company, Neptune Trading.
For more information:
Wuu Jau Company
2600 S. Kelly Ave
Edmond, OK 73013
Toll Free: 800-772-5760
Website: www.wuujau.com
California Distributor
Neptune Trading
Toll Free: 888-637-8723
Website: www.neptuneusa.net