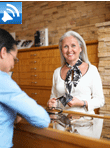 Ron Welty, vice president of Mystery Shopping Providers Association (MSPA), the largest professional trade association dedicated to improving service quality, told me in a previous interview that he believes that using a mystery shopper may help independent retailers better evaluate their customer service. Unlike a customer survey, which often receives emotional responses and opinions, a mystery shopper is trained to research specific service areas and provides an unbiased evaluation. Carl Ashby, president of Ann-Crittenden Hallmark Gold Crown stores, agrees that the unbiased evaluation of mystery shoppers has been a part of his success as an owner of thirteen stores throughout North and South Carolina. "It isn't just about evaluating the customer service level of your employees when you aren't around, but mystery shopping has provided me with an extra set of eyes and ears, since being in all thirteen locations is impossible," Ashby notes.
Mystery Shoppers Crucial in Building Business
Hallmark a well recognized greeting card and giftware company across the nation, and relies on its more than 3,000 retail partners to carry its selection of products in communities across the U.S. In return, it provides to its Hallmark Gold Crown stores corporate support and useful tools in measuring customer satisfaction, such as the Customer Satisfaction Index. The customized survey solution to help understand and act on customer feedback further inspired Ashby to invest in other customer satisfaction measuring tools, such as mystery shopping. "I use both the Customer Satisfaction Index and mystery shopping; the feedback from both are crucial. I stress with my staff, this business is more than taking money, it is about solving customer problems and we do this by satisfying their needs," Ashby says.
Ashby advises, however, that a plan of action to improve customer service cannot rely on just one mystery shopping experience, as every shopper and moment varies. "We have two mystery shopping visits twice a month. From there I look at trends across all stores and mystery shopper results," he says. "It is also important to customize these experiences to fit the needs of your store. We had a basic script which never fully provided us with the feedback we needed, so we decided to come up with a customized script three years ago." His mystery shopper now looks for name badges, checks to see if sales staff promote specials and other important criteria for Ann-Crittenden stores. For an independent retailer starting with one store, Ashby and his sister (business partner) have become a successful entrepreneurs, recognizing that customer satisfaction is the primary key to success.