May is primetime for the start of the holiday buying season. Between stocking shelves for summer, back-to-school sales, and prepping for the holiday season ahead, all retailers are on the lookout for this year's latest and greatest products.
The novelties of last year's trends are fading away, and everyone is looking for fresh ideas. Independent Retailer has gathered the newest innovations, developments, and eye-catching products that consumers will be craving in the coming months.
Snapit™: Always There When You Need It
"I invented the Snapit™ after my first cell phone went down the ice fishing hole," explains Snapit™ founder and CEO Ken Kasden, a self-proclaimed eccentric inventor. The Snapit™ is a patent pending invention designed to fit every cell phone model, whether smart phone, flip-phone, or dumb-phone. The new product's many functions include: preventing phones from being lost, deterring theft, and ensuring users never miss a call or a notification. Generally speaking, it provides cell phone users with peace of mind.
"After losing one phone down an ice fishing hole, another phone was stolen off of my dinner table while eating out," continues Kasden. "Those two losses cost me over $1,000." Sadly, Kasden is not alone in his cell phone loss experiences. Over 4.5 million cell phones are lost or stolen in the United States alone each and every year. Cell phones are expensive investments and their loss is keenly felt by their owners.
Most of us protect our devices with durable waterproof and shatter- proof cases, and even add the extra security of a screen protector. While all of these products help preserve our device when it is dropped or accidentally falls down, the Snapit™ prevents your phone from falling in the first place. Kasden's invention keeps your phone readily accessible for incoming calls and messages, while safely securing it to help prevent theft or an accidental fall.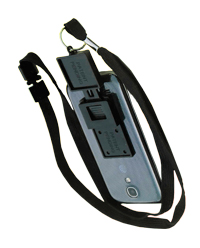 The Snapit™ uses a special safety lanyard so that it can be used in any and all environments. If a user falls, gets stuck, or has something pull hard enough on the clasp – the lanyard breaks apart at the neck. This special lanyard feature prevents the Snapit™ from being a safety hazard for the user, while at the same time it is secure enough so that the cell phone owner need not worry about the lanyard clasp releasing accidently.
The Snapit™ is a simple solution to an everyday problem. Made in the U.S.A. out of a durable space shuttle polymer known as POM, the Snapit™ is the size of a domino and can be easily installed onto the back of any cell phone in less than two minutes. "Simple words will not do justice to the Snapit™," says Kasden. "You have to hold it, examine it, and give it a try."
Many retailers have already begun selling the Snapit™ in their stores. "One retailer in Boston told me he will sell a million Snapits™ this year alone. He orders several hundred of them almost every day," says Kasden. "People have told me the more they use it, the more they love it. It really is a major stress reliever."
Kasden is so confident of the quality and usefulness of his product, the Snapit™ is backed with a money-back guarantee, as well as a lifetime product guarantee. If a retailer is not completely satisfied with their Snapits™, they need only send them back and Kasden will issue a refund to the retailer or shopper. The Snapit™ product is also extremely durable and Kasden stands behind the quality of its manufacturing. If at any point a Snapit™ breaks, Kasden will replace it with a brand new unit.
For more information on packaging, distributing, retailing, and for samples, visit www.cellphonesnapit.com.
Handle It: No More Spills
"I came up with the idea while I was holding my son at a party," says Handle It founder Khun Taw. "I was trying to pour a soda and it spilled everywhere. Nowadays two liter bottles are flimsy because they're using less plastic, so you need two hands to use it." The Handle It is a 3 in 1 product that serves as a handle, bottle opener, and carrier for standard size bottles. They easily snap on and snap off the bottles, and can be snapped together for storage.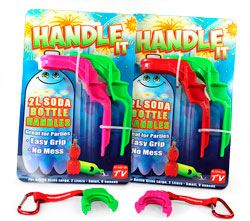 The Handle It allows for easier, more secure pouring that can be done with one hand. It allows for easier multitasking, less mess, and fewer spills. The handle attaches smoothly, is secure enough to use on a full bottle, and can be transferred to another bottle when needed. It's also a great conversation and novelty piece for parties and social gatherings.
Taw has a background in engineering, and he says that knowledge helped him perfect the Handle It design. "We have the most unique and simple design," says Taw. "Unlike competitors, our product is very secure and multifunctional. Even though it is simple, it has many features." The design took one year and 23 different prototypes before Taw was satisfied with the functionality and quality of his product.
Many consumers will benefit from this product, explains Taw. "It's something new. People love to talk about new gadgets. This will become a standard item for parties, so party planners and hosts will love this".
There are several POP display options for retailers. Taw recommends the hanging POP kit, which contains 24 Handle Its and can be placed near beverages in your stores. "I also have posters to put beside products," says Taw. "It tells people how the product is used and why. It's a much better selling point because customers really understand what it is and how it's used." There is also a counter POP display; so sales associates can recommend the Handle It for customers purchasing drinks and sodas. "People are curious," says Taw. "They're going to pick it up." MSRP is $2.99, each item wholesales for $1.75. For more information, visit www.gohandleit.com.
American Dakota: Durable Americana Designs
American Dakota rugs, created for cabins and mountain homes, capture the Southwest hues found not only in nature but also in the plant and mineral dyes from that region. "We painstakingly match our dyes to colors like indigo, turquoise, salmon, and denim; a lot of machine-made rug companies cannot do that," explains a company spokesman. Durable nylon fibers with a Teflon™ coating ensure rugs will outlast the stress of everyday wear and tear.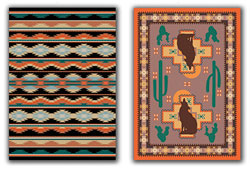 American Dakota founder Mark Ford seeks, when possible, relationships with Native American artists to develop exclusive designs that capture the artist's signature style. When looking for artists to partner with, American Dakota seeks "positive Native Americans who are telling a story with their art." The profits from all partnerships are split equally between American Dakota and the native artist.
One partnership that is near and dear to the company is their business relationship with the New Echota historic site, which is the Cherokee Nation's former capital. The site is located in the company's hometown of Calhoun, Georgia. "This under-funded historic site has had so many budget cuts, we wanted to help out any way we could, so we collaborated on a Cherokee-inspired collection together," explains Ford. A portion of those rug sales goes directly to help this important site, and the preservation of the original Cherokee homesteads.
All American Dakota patterns are their own creations. Each rug is made-to-order in the USA. American Dakota's unique process allows them to provide top quality artistic rugs in 6 different sizes at a fraction of the price of what a hand-made textile is normally sold for. "Compared to similar vintage rugs which can cost $10,000 per rug, American Dakota has a $300 alternative that you can live with. They don't crush under chair legs and are extremely durable. Unlike other rugs, it can actually be used for its purpose instead of decoration."
To view each design, visit www.americandakota.com.
North: LED iPhone Smart Case
"We realized there was a huge opportunity to compete with the gigantic but slow captains of the traditional consumer electronic market," explains Mike Clemmer, Lead of Product Development. "We wanted a fun product that is unique and would allow us to see if we were getting calls or texts when our phone is faced down."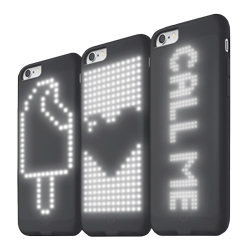 The LED iPhone 6 and 6s smart case is an innovative solution that allows users to view incoming calls and texts on the back of their phone. Users can also create custom messages, images, and designs to display on the case while there are no incoming messages. "It provides young millennial customers a unique way to express themselves and to be notified when their phone is on silent," continues Clemmer.
North's LED smart case is different from competitors because they develop their own hardware and designs from the ground up. "We believe that as the consumer electronics market continues to hyper-commoditize we can stand apart by offering real innovation and solid value," says Clemmer. "Many competitors do not develop their own products, but rather rebrand from existing foreign manufacturers."
The LED cases are available in packs of 48. Clemmer recommends utilizing their corrugate shelf display for merchandising. The smart case is "currently placed at Best Buy and is doing really well," says Clemmer. "Any retailer with strong foot traffic will succeed with this."
For more information, visit www.weliveupnorth.com.
SPEL Kit™: Peace of Mind in a Small Package
"Aside from being a career intelligence professional, I am the father of three school age children," explains Triangle Practical Preparedness Products founder and CEO Bob Sepcic. "There was no practical emergency kit option on the market that was designed specifically for kids to carry with them to school. So I created one that fits into the everyday reality of school children- in a backpack, binder, or folder that would never be noticed and hopefully never needed." ??
Sepcic created the Student Personal Emergency Lockdown Kit™, or SPEL Kit™ as a simple, practical solution for parents to provide for their children when they are at school. "The reality for most of us," continues Sepcic, "is that when our kids leave the house to get on the bus at 7am, they are in someone else's care until 4pm. If an emergency happens, are those responsible for your child's wellbeing well prepared to meet their needs?"
Having 20 years combined experience in the military and government, Sepcic is keenly aware of today's security challenges. His SPEL Kit™ contains items that address student needs in a prolonged lockdown or other situations where help is not readily available. However, his kits do not include contents that could complicate lockdown plans such as whistles and light sticks. These items are common in other emergency kits, but could be dangerous in a lockdown where noise and light might attract the attention of a threat actor.
The SPEL Kit™ comes in three different discreet packaging options: a standard pouch, a mini binder pouch, and a full binder pack. Wholesale pricing ranges from $6.75 – $9.75 per kit with an MSRP of $11 – $17 or higher. "Appropriate outlets for our SPEL Kit™ line would be independent retailers, drug stores, school supply stores, and office supply stores—the kinds of places that moms of school-aged children shop. This powerful purchasing demographic is often missed because these types of products are usually located with sporting goods, first aid, or camping supplies," explains Sepcic. "My kits should be marketed with backpacks, bags, school clothes, and school uniforms."
Triangle Practical Preparedness Products assembles, labels, and packages the SPEL Kit™ in-house, so custom packaging and rebranding is available. Drop shipping is also available. There is no minimum for orders.
For more information, visit www.tp3inc.com.
Super Bright Self Defense Flashlight
Safety Technology has 29 years of experience in helping others achieve peace of mind by providing quality non-lethal self defense products to a wide range of clients. Owner Michael Gravette began his company after serving in the U.S. Air Force, then spending ten years working in many different fields, but always on the look-out for a way to achieve the American Dream. In 1986 Gravette ordered a personal protection product for his wife, Nancy, and the idea for Safety Technology was born. Now in their 30th year of business, the company is dedicated to providing superior products and fostering small business enterprise.
New to their line of personal protection lights is the Super Bright Self Defense Flashlight. This high-powered 1,000 lumen light is zoomable and easily switches from a 30 foot beam of light down to a 6 foot beam to cleanly illuminate a walkway or an approaching person.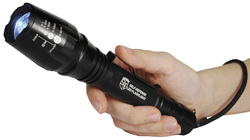 The innovative design of this safety light includes a strobe light setting for self defense, an SOS setting for signaling, and at just over 7″ in length and made of high quality grade aluminum, this sturdy flashlight is strong enough to be used as a self defense baton but small enough to be the perfectly portable size for dropping into a purse, storing in the car, or hanging by the back door for use when walking the family dog.
The Super Bright Flashlight includes a handy wrist strap as well as a utility belt clip to allow for maximum comfort and portability. The flashlight comes prepackaged in a gift box with two 18650 lithium batteries included. Perfect for the impulse-display at your cash-wrap, Safety Technology's Super Bright Self Defense Light is a proven hot seller in every type of retail outlet from sporting goods stores, to nail salons and gift shops.
The flashlights wholesale at $12.50 each and suggested retail pricing is $24.95, with no minimum order. "With us, we don't have a minimum order, we are all about small business and working with small business owners, so we don't require a minimum, we only ask retailers to fill out our dealer application," says John Hite of Safety Technology General Manager.
Active Military and Veteran discounts are offered. Drop shipping is also available from Safety Technology, along with a wide array of personal protection and home safety products that are sure to be a favorite with your shoppers.
Retailers interested in ordering this highly practical and useful product need only fill out a dealer application on the Safety Technology website, www.safetytechnology.org, or call them directly at 800-477-1739 requesting SKU ST-SDFLASH.
Red Carpet Studios®
Red Carpet Studios®, a family run business in Loveland, OH, has a smash hit on their hands. Since 2000, the company has offered a range of fine gifts, garden designs and women's and children's fashion accessory lines perfect for retailers spanning the entire country. Red Carpet's latest product line, Pig-E Pals 3D kids slipper gripper socks, are taking the gift sales niche by storm.
Stephanie Flannery, National Sales Manager, tells Independent Retailer about how the product first came to be. "Based upon our success last year with our toddler knit hats, we designed a product to add to our kids theme. These items fit into holiday gift giving as well as offer a whimsical product for children."
The charming line of children's slipper socks include designs perfect for holiday gift giving, birthday, or every day fun. Ranging from traditional teddy bears, owls, kittens, and sock monkeys to outdoor themed snowmen, penguins and Santa himself, these delightfully adorned socks are a sure hit with shoppers of all kinds. Flannery notes that moms, dads and grandparents are all big fans of the Pig-E Pals sock lines, and for retailers' convenience, the socks are packaged with a hanging hook, perfect for peg board displays and revolving cases.
"As a family owned business, our employees and our retailers have direct access to the owners of the company. We understand the challenges of the independent and family owned retailer as we have the same background." Flannery continues, adding that "retailers that will succeed with this product can include gift stores, hospital gift shops, boutique shops, children's boutiques, and more."
Wholesale pricing for the Pig-E Pals 3D sock line is $5.00 per pair with a recommended retail price of between $9.99 and $12.99. Red Carpet Studios® requires a $150 wholesale order minimum across their entire line, and they are currently offering retailers a special on their Holiday Book, including the Pig-E Pals. Additionally, any order of $500 or more will receive Net 12/10 dating terms with outbound shipping any time after June 1, 2016.
For more information on the Pig-E pals sock line or any of the fine gifts offered by Red Carpet Studios®, please visit their website at www.rcsgifts.com to view their full line of catalogs or to place an order.
Epibright Intimate
Sisquoc Healthcare is committed to providing safe and effective personal health care products that are never tested on animals and can be trusted to be used in both the short term and long term. Founded in 2005, company President Mark Flick points out that Sisquoc Healthcare has partnered with some of the top-ranked laboratories in the United States in order to ensure their products are made with the highest quality ingredients in the cosmetic and pharmaceutical industries.
As a small but growing company, Sisquoc Healthcare has recently broadened their personal care product line with the launch of Epibright Intimate. Available in a 50ml/1.7 oz size, Epibright Intimate is a powerful skin lightening cream that is gentle enough to be used on the body's most intimate areas. Created using superior skin lightening agents together with organic herbal extracts, Epibright Intimate is an effective and safe cream used to brighten the skin. When applied to the body's most sensitive skin, Epibright Intimate's soothing formula reduces inconsistent coloration to balance and even skin color and improve overall skin tone.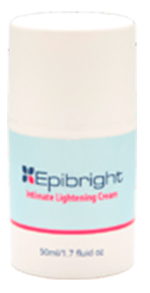 "Retailers who carry Epibright Intimate will find that all of our healthcare products are not only extremely effective and do exactly what they claim to do, but are also completely safe, " says Jason Edwards, Vice President. At just $15.00/unit wholesale with a suggested retail price of $39.95, Edwards tells Independent Retailer, "this product is an amazing seller. We had a distributor who started carrying Epibright Intimate and sold out immediately – he has had to reorder again and again just to keep up with demand from retailers."
The range of Sisquoc Healthcare products includes Funginix, a topical nail fungus treatment that helps clear both toe and finger nail fungus using natural botanicals and super-effective anti fungal agents; Phytozine, a highly effective ointment for the immediate elimination of ringworm infection; Estrothin, a powerful herbal supplement that provides support to perimenopausal and menopausal women; and Warticide, a no-mess maximum strength natural wart remover.
All Sisquoc Healthcare products are backed with a 60-day, no-questions-asked, money back guarantee within 60 days of the date of purchase. Because Sisquoc Healthcare is small business oriented, Edwards notes that the company has a very low order minimum and offers volume discounts and flexible terms based on order size and freight costs.
For more information on the full line of Sisquoc Healthcare products and to place an order, please visit www.sisquochealthcare.com or find them on WholesaleCentral.com.
Random Ass® T Shirts
Robert Weinberg and the team at Random Ass® Packaged Ts in Dallas, Texas, know a thing or two about selling hot-ticket items. Carrying a huge line of custom T-shirts including their trademarked Random Ass® designs, Weinberg notes that the company's success is due in part to their savvy packaging. "Retailers can peak someone's interest by offering a fun T-shirt pre-packed in a carton," he notes, "it's a gift package all in itself."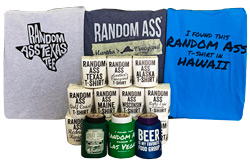 The distinctive shirts are offered in three different versions, the first being the classic Random Ass® shirt which can be name dropped to include any destination location, school, or event. The second option for the shirts is what Weinberg calls the "masking tape" version which includes the Random Ass ® name with a location or event name-dropped into a masking tape style design, and lastly, the state outline version includes a graphic outline of any U.S. state, filled with a funky text font that includes the company name and the state name.
The shirts can be ordered to deliver flat, at $7.00/shirt wholesale price, or they can be delivered in their unique Chinese-food style carton at $8.00/shirt & carton, or they can be delivered pre-packed into a custom koozie at $9.00/shirt-koozie combo.
Any destination name or event name can be added to the shirts and the koozies, Weinberg adds, "all we need is a two week turn around and we can print anything you want from Coachella to Redneck Riviera on the shirts and packaging."
Weinberg requests a 36 piece minimum order for any of the branded shirts, or for the shirt/koozie combo, the minimum is 144 pieces. Both the koozie and the Chinese-food style carton can include images to match the T-shirts. Up to three spot colors are available on the shirts, and the koozies run at one color throughout.
For more information on ordering or to view samples of the classic line of T-shirts, please visit www.randomass.com.