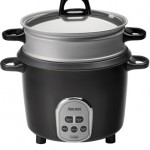 In 2008, while working on the first ever Spanish rice function for a rice cooker, the Aroma Housewares' product development team had an epiphany: Spanish rice isn't the only dish that requires food to be first sautéed, then simmered until done. A wide variety of stovetop classics require the same steps. That eureka moment gave way to a new patent pending technology, Sauté-Then-Simmer(tm). Sauté-Then-Simmer is not only the first rice cooker to be able to sauté foods at a high heat for a prolonged period of time, but this ground breaking technology also senses once liquid is added, to automatically switch to a simmer. And like all Aroma rice cookers, it automatically switches to a keep warm mode once the meal is ready. Sauté-Then-Simmer is the perfect way to easily make Spanish rice, packaged dinner helpers, risottos, stir frys, pilafs and more.
In addition to Sauté-Then-Simmer this rice cooker also includes the features that have helped make Aroma, "America's Favorite Rice Cooker," such as a specialized function for brown rice, steam tray for healthy one pot meals, and easy to clean nonstick coating. What happens in the typical rice cooker is that the heat does not really reach a temperature over 100 degrees, because it is essentially meant to boil water. In this rice cooker, when it is in the sauté mode, it reaches a much higher temperature.
The wholesale price on the rice cooker is about $28, and the suggested retail is $39.99. The minimum order is a case, which is composed of two units. There are further discounts for larger volume orders. Call Aroma Housewares for more info and pricing.
For more information:
Aroma Housewares
6469 Flanders Drive
San Diego, CA 92121
Toll Free: 800-276-6286
Tel.: 858-587-8866
Website: www.aromaco.com