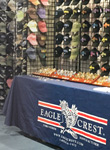 Eagle Crest is a supplier of licensed military products including products of the U.S. Army, Air Force, Navy, and Marine Corps. Dan Libera founded Eagle Crest in 1981 after leaving active military duty. As a former Navy pilot and Vietnam veteran, Libera's dream was to offer proud insignia products to current service members and veterans while providing excellent customer service and a lifetime product guarantee. Over the past 35 years, Eagle Crest has expanded into a large-scale production including in-house design, art, and production staff. Kevin Mack, national wholesale account manager for Eagle Crest, sits down with Independent Retailer to discuss the company, business values, and best practices:
What makes Eagle Crest stand out from other suppliers?
Eagle Crest, Inc. is a family owned business. Once you are an Eagle Crest customer, you are also part of the family. Dan, his wife and two daughters form the core of the Eagle Crest family. When not in school, his two daughters intern during the summer to learn the business and help us grow as a company.
What can you tell us about your buyers?
Eagle Crest is very proud to have the most loyal customers in the business: from large to small, all are very important to us. Our customers have confidence in us and know that Eagle Crest stands behind our product — we guarantee the sale of our stock, non-discontinued products. Very few companies in our industry do this. We have customers that attend trade shows specifically to meet with us and see our new merchandise. We are a very customer-centric company and will do whatever necessary to take care of each individual customer no matter what the need is.
How do you communicate with your customers?
We have weekly email blasts with specials and new products. A Facebook account was created to allow our customers and us a unique way to show our product and to communicate with our employees. We're also available by email and phone.
What advice do you give to customers??
Always treat your customers and your employees with respect. These two aspects of the business are what make a company successful. Our customers not only continue to come back because of our great designs and amazing prices but they come back because our team works hard for them every day.
What are your current best-selling products?
Hot sellers for us right now are our new exclusive Coyote Brown caps that we just brought to market. Also, this year t-shirt sales are at an all-time high.
How can retailers place orders?
For new customers, contact me, Kevin Mack, at 800- 874-1410 x226 to create a wholesale login. All new customers receive free delivery on their first order and our minimums are just $100. Eagle Crest launched a new state of the art, wholesale website in July 2015. You can order and pay directly from the website. Pricing and quantity on hand is only available to customers who log in. The new website is very organized and customer friendly. We've received lots of positive feedback.
What else should Independent Retailer readers know?
Eagle Crest is strictly a wholesale company, which means we do not sell retail or compete with our customers. Our owner and management team takes great pride in being honest and straightforward with all of our current and potential customers. We exhibit at many trade shows throughout the year and the number of valued customers that make the trip to visit us, to see our new product lines, and just say thank you is very humbling. Our customers love our products and our service. They know that Eagle Crest stands behind what we sell and?if there is ever a problem we will take care of them, no questions asked. We are very easy to work with.