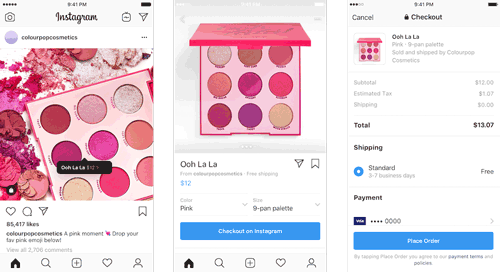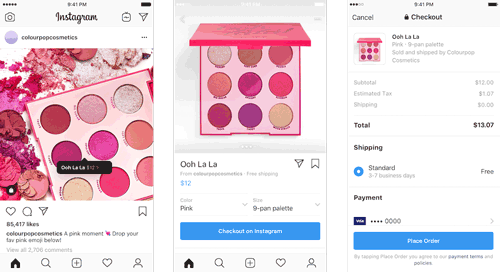 Online sellers, rejoice. Instagram has announced a new feature called "Checkout" that allows shoppers to buy directly from your posts without leaving the app. The feature is still in beta testing, but has big implications for the future of online shopping. Over the past few years, Instagram has added more and more consumer-focused features such as product tags and the most recent shoppable update to Instagram stories. Last fall, Instagram announced they are building a standalone shopping app. So, it was only a matter of time before the original Instagram became directly shoppable.
Instagram as Next-Gen Catalog
Before the internet, shoppers used physical catalogs from stores for inspiration, to see what's new and cool, and to plan out purchases. Now, paper catalogs are all but a thing of the past. Instead, shoppers are scoping out products and trends online. In many cases, Instagram is the browsing platform of choice.
On Instagram, shoppers can see what their friends, celebrities, and influencers are wearing in posts. Many larger accounts already link to brands or products that they're wearing in each picture. Today's shoppers don't trust what brands say about their own products. But, they do trust recommendations or endorsements from people they follow online. In today's shopping environment, consumers have all of the power. Instagram is one way for retailers to connect with their customers, and in turn, be introduced to new potential customers.
This consumer-driven environment is great for independent brands because it's a much more democratic process. Before, an independent manufacturer needed to get their products into a store like Macy's in order to be seen in product catalogs. Now, any brand can become well-known on Instagram if enough people like their products. According to BigCommerce, 60% of Instagram users say they discover new products on the platform and 200 million Instagrammers visit at least one business profile daily.
How Does "Checkout" Work?
According to Instagram's press release, "Checkout" will offer a seamless shopping experience for consumers. Previously, when shoppers wanted to buy a product from Instagram, a pop-up web view of the retailer's site would appear. As a result, many shoppers abandoned their purchases.
With Instagram Checkout, "When you tap to view a product from a brand's shopping post, you'll see a 'Checkout on Instagram' button on the product page. Tap it to select from various options such as size or color, then you'll proceed to payment without leaving Instagram," reads the press release. "You'll only need to enter your name, email, billing information and shipping address the first time you check out."
Once a shopper's order is complete, their information will be saved in the app for the next time they shop. The consumer will receive notifications about shipments and delivery right inside the Instagram app.
Brands selling on Instagram will only receive the information necessary to process the order such as the buyer's address and contact info. But, retailers will not see any payment information. Shoppers will have the option of choosing whether or not to share their email address with the retailer for marketing purposes.
On the back end, Instagram will also charge retailers a "seller's fee." The exact amount is to be determined, but it is clear that the seller's fee is expected to be absorbed by the retailer and is not to be passed onto the customer. According to TechCrunch, "Instagram plans to allow merchants to integrate their Shopify, BigCommerce, ChannelAdvisor, CommerceHub and other tools with the Checkout feature."
When is it Available?
Right now, Checkout is in beta and only available to a select group of retailers including Adidas, Kylie Cosmetics, Warby Parker, and Zara. At this time, there is no set date for when Instagram will roll out this feature to the public. So, stay tuned for details.