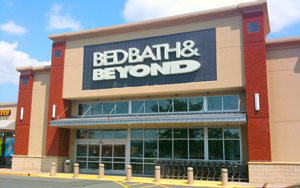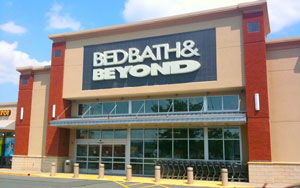 Bed Bath & Beyond is struggling. After seven back-to-back quarters of declining same-store sales, the company has announced that it's reconsidering leases. Last month, the retailer also laid off 150 employees. It's shares have dropped about 80 percent since Bed Bath & Beyond's heyday in 2015. Now, the retailer is struggling to find investors, according to CNBC.
So, what went wrong? Essentially, Bed Bath & Beyond hasn't adjusted their strategy to account for online shopping or any other recent change in consumer shopping behavior. Bed Bath & Beyond carries hundreds, if not thousands of other brands within their store. But, none of them are proprietary or private label. Which means, essentially, Bed Bath & Beyond doesn't offer anything shoppers can't get somewhere else.
A selection of non-unique products could still be profitable with the right customer experience. But, that's not an area of focus for the retailer either. When you walk inside a Bed Bath & Beyond store, products are roughly grouped by categories like kitchen, home, bedding, and beauty. But, the stores are a maze to navigate and don't offer clear signage.
Since Bed Bath & Beyond is not competing with product selection or the in-store experience, that means they are competing on price. If you've ever purchased from Bed Bath & Beyond, you may be familiar with the 20% off coupons they regularly send in emails, snail mail, and text message to customers to lure them into stores.
However, according to RetailWire, Bed Bath & Beyond announced they are limiting couponing as a means for driving in-store traffic. The company hopes to replace the standard 20% off coupons with more limited, but personalized offers. In-store, Bed Bath & Beyond also plans to focus on their growing selection of baby products, and customized products like engraved teddy bears. The company also plans to roll-out some proprietary brands, finally bringing something to the stores that shoppers can't buy elsewhere.
But, for Bed Bath & Beyond, limiting coupons and then focusing on fixing the in-store experience is putting the cart before the horse. Right now, Bed Bath & Beyond's biggest problem is the customer experience. According to CNN, Bed Bath & Beyond is piloting new "lab stores" that have a "greater emphasis on home decor, food and beverage, and health and beauty care." The layouts of these stores are different, offering a better view of the merchandise. Sales in the experimental stores are 2.2% higher than traditional Bed Bath & Beyond stores, with customers spending more and the retailers earning higher margins.
So what's the takeaway for retailers? There are a few lessons to be learned from Bed Bath & Beyond's recent missteps:
Don't Rely on Couponing and Discounts.
Coupons and discounts have their place in loyalty programs. But if every shopper is using a coupon, that means your prices are either inflated or your margins are being severely damaged. Neither of these are good for brand longevity.
Offer Proprietary Products.
Offering something shoppers can't get anywhere else is a must for driving traffic and in-store sales. Proprietary brands also help build your store's identity.
Constantly Reevaluate the In-Store Experience.
Today's shoppers have more retail choices than ever. If you want shoppers to continue to return to your store, you have to impress them each time they shop. A clean store layout with easy navigation and clear signage is critical.