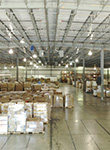 International Enterprises, Inc. has built one of the largest salvage companies in the United States with over 175,000 square feet of inventory space. They specialize in direct to retail sales of salvage, customer return, overstock, and marked-out-of-stock merchandise. The company sources products from numerous national and multi-national retailers and manufacturers. "We presently hold several strategic contracts with global retailers," says General Manager Jason Stout. "Our reach is world-wide in terms of customers and suppliers."
According to Stout, their most popular product categories are health and beauty, drugstore, jewelry and watches, grocery, apparel, seasonal, general merchandise, and tools and hardware. International Enterprises, Inc. also has a wide range of toy, electronic, sporting good, and business communication merchandise. 80% of their customers purchase goods by the truckload to take advantage of the larger discount. However, pallets and smaller boxes are available for retailers who cannot accommodate truckloads, or are working with a reverse logistics company for the first time. 
International Enterprises, Inc. has been in business for over thirty years, and has gained the trust of retailers worldwide. A retailer from California says of International, "Since 2001, we have worked with International Enterprises and consider them to be a value added partner in our supply chain.  They are a consistent source of a wide variety of goods.  We have had a few discrepancies over the years and they have always been fair to help us resolve these issues in a timely manner.  They are dedicated to our relationship and have earned a level of trust that is difficult to find in the liquidation industry."
The reverse logistics company's buying power and long-term relationships with suppliers allow them to offer retailers prices well below wholesale. "We are often at the forefront of large, unique deals that many of our competitors don't get a chance to see," says Stout. "Our strength has always been in running a lean, efficient business at a lower cost, which we then pass along to our customers."
Retailers can register as a customer by providing a business license. From there, you will have access to detailed inventory data including an RSS email newsfeed. For more information, visit www.internationalent.com.