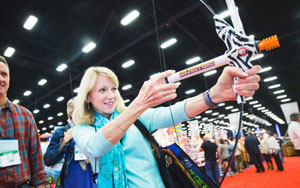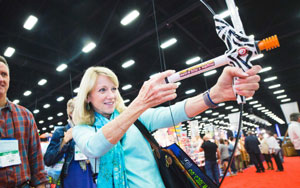 Founded in 2000, International Gift Exposition in the Smokies (IGES) is a wholesale-only gift show in the beautiful Smoky Mountains of Pigeon Forge and Sevierville, TN. As a favorite Tennessee show, it is held in late Fall and draws many buyers from specialty stores across the U.S., the Caribbean, and Canada. The show features more than 550 booths of name-drop items for souvenirs, coastal gifts, children's toys & plush, resort apparel, gourmet, and Made in America to stock your retail and online stores. The show is primarily an order-writing show and features a newly added Cash & Carry Pavilion, exclusively in Sevierville.
The IGES souvenir gift show is a can't-miss for retailers in the industry looking for top-quality items at wholesale prices. With many opportunities for networking, many of the show's past attendees have created long-lasting relationships while finding new suppliers exhibiting at the show.
Two Incredible Venues: One Wholesale Shopping Experience
At the Sevierville Convention Center, the original home to IGES, you will find an exciting assortment of companies featuring the latest and greatest products including:
New Vendors:
Looking to find new products from new vendors at IGES? Look no further. Sevierville is the first stop for buyers looking to see new vendors and discover their merchandise mix before heading elsewhere.
Made in USA & Handmade Pavilion:
Discover more than 70 companies across the United States that specifically produce unique, handmade and artisan-focused products.
Cash & Carry Pavilion:
In partnership with the NCA Jewelry group, this is a dedicated area where buyers will be able to place orders for their business as well as make personal purchases. Treat yourself before heading back to your store.
At the LeConte Center at Pigeon Forge, buyers can see exhibitors' new product lines, place a reorder, and find new products. Whether you're looking for name-drop items, souvenirs, or camping products for your resort, cruise line, or campground, IGES has hundreds of vendors showcasing top selections of must-have souvenirs and resort gifts to stock your retail or online stores.
Discover Why IGES is the Industry's Favorite Souvenir Show
IGES includes five days of special events, including association meetings, cocktail receptions and networking dinners. Buyer amenities include complimentary shuttle service, free on-site parking, area lodging discounts, specialty networking dinners, opening day buyers' receptions, complimentary buyer breakfasts, drawings for free lodging, cash prizes and more.
IGES is a trade-only event that is free to attend for qualified buyers. Visit ww.IGES.us to register ahead of the show.
IGES
Sevierville, TN
November 5th – 8th, 2019
Pigeon Forge, TN
November 6th – 9th, 2019