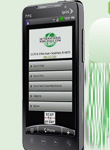 International Wholesale, with a specialty in cleaning products and personal care merchandise, as well as food and candy, strives to keep the ordering process as easy as possible. To that end the company is introducing its new app, aimed to help customers cut down on the amount of time it takes to place an order, while at the same time making order information more mobile and accessible than ever before. "What our app does is make it as easy and efficient as possible for our customers to place orders," explains Michael Sheena, operations manager. "There are companies that sell actual scanners to their customers to make their own orders in the store, but that's not fair to the customer. So, if we can give customers something they can use with their phone, iPad or tablet, it will give us a step up above the competition."
Now, with the help of the International Wholesale app, if the company is out of an item the app will suggest a similar item, so that customers don't have to go without that category entirely. If the warehouse is out of one type of white soap, for example, the app will show customers 12 other varieties of soap that could be ordered as alternatives from the company's inventory. This way, the customer doesn't miss out on stocking merchandise and International Wholesale doesn't miss out on a sale.
"We rolled out the app shortly before the August ASD show, and all of the feedback we've gotten has been nothing but good," says Sheena. "And that's with just the basic app that's out. I'm working on enhancements that will be out soon. I'm also working on an app for Droid devices that will come out in the fall, and the company is going to release everything at once." Customers looking to download the app will be able to do so through a link on the company's mobile site, as well as through the Apple store or Android Marketplace. It is free and coordinates with the website, which enables the company to offer live inventory information.
The company is also in the process of updating its website so as to offer customers shipping estimates immediately upon ordering, Sheena points out. This fall, International Wholesale hopes to have all updates completed and in place, continuing its mission to provide the best possible customer experience.
For more information:
International Wholesale
21170 West 8 Mile Road
Southfield, MI 48075
Toll Free: 855-549-7253
Website: www.internationalwholesale.com