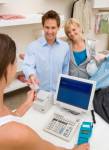 It happens on a daily basis. Customers walk into a retail store, locate merchandise they're interested in purchasing and handle the product, getting familiar with it and deciding whether or not it's worth buying. These customers then leave with smart phone in hand and Amazon.com on screen. This is what has come to be known as "showrooming," in which brick and mortar retailers are pushed into a position of being little more than a demonstration area, workshop, or fitting room without gaining the sales to support their customer service. Eradicating this trend is a top priority for retailers of all sizes.
According to The Wall Street Journal, Target recently communicated to its suppliers, "What we aren't willing to do is let online-only retailers use our brick and mortar stores as a showroom for their products and undercut our prices without making investments, as we do, to proudly display your brands." With this in mind, there are measures that retailers can take against showrooming, the most effective of which is considered to be offering a ship-to-store option through any retail website.
Aggressive pricing and matching guarantees can do much to dissuade customers from making a mobile purchase as they walk out the door. Given the opportunity, most customers would rather show the better price on their phones to a store employee, have the better price honored and then be able to have the instant gratification of taking the item home, rather than order it online and wait for it to be shipped. If price matching is within a retailer's reach, it can be a strong deterrent for would-be showroom shoppers.
Offering exclusive items is another tactic that can lure customers in the door and to the cash register. Target, in particular, is renowned for offering limited-time, exclusive products, especially within its apparel lines. Independent retailers can emulate the same method by carrying special items and promoting them as flash sales, creating a sense of urgency that can compel customers to make the purchase.
Few tactics have shown as much overall promise, however, as site-to-store or ship-to-store options. Research shows that more than 60 percent of brick and mortar shoppers have investigated merchandise before going to see it in the store. This being the case, if a customer is going to buy an item from a retailer's website, having that customer pick up the order in store saves money on shipping and speeds up the wait time, both of which are highly appealing to impatient shoppers. The hidden benefit to this, however, is that once retailers are able to get customers in the door to pick up a purchase, that customer is more likely to make an impulse buy on the spot. Because the purchase can be completed in the store, it's also a more attractive option for customers who are leery of sharing their payment information online. Regardless of their motive, site-to-store shopping creates more foot traffic than having either an online store or a brick and mortar alone.
Site-to-store pickup has proven to be such a popular retail feature that even online superpower Amazon.com has tried to offer the same process. The website now has at least 50 pickup locations in five select cities including New York, Seattle and Washington, D.C. The pickups consist of lockers that customers can request as a destination for their purchases, but it's weak competition for delivery to a store and offers none of the same impulse buy opportunities. Retailers may have an edge on Amazon, after all.