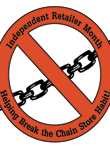 Think about 'independent' retailers and you get exactly what the phrase implies: unique, different, unusual, individual and non-conforming. This also defines Independent Retailer Month and its origin. Two very different people with a common desire to salute independent retailers around the globe have partnered to call attention to these entrepreneurs.
Kerry Bannigan, founder of NOLCHA, originally devised a plan to advance the business of independent fashion designers and retailers via social ecommerce, fashion week events, and an educational video portal. Bannigan took her team on a seven day visit to the cities of Chicago and Philadelphia, as well as cities in New York and New Jersey. For that week, the traveling team created initiatives and programs to promote local fashion designers and boutiques, to help grow their brands, as well as work with local business to encourage the city to promote and celebrate these retailers.
Tom Shay, principal of Profits Plus, created a holiday, 'Independent Retailers Week,' to show small retailers how they could create celebrations for their communities, industries and their own businesses. Each year, Shay added another component to the event, as he gathered ideas from those retailers, associations and groups that joined in the promotion. Within a few years, the event had a logo (the same logo used today), a website, and the event grew, drawing media attention and the attention of Kerry Bannigan and her organization.
An initial meeting started discussions between Bannigan, with her roots in the fashion industry, and Shay, with his beginning in the small town general store. They wanted to focus on all independent retailers, regardless of what products they sold. Bannigan and Shay also wanted to include the manufacturers and wholesalers who provide products and services to these independent retailers. As they found other organizations that had a celebration with the same focus on independent retailing, they noticed that most held events during the month of July. Bannigan and Shay wanted to be inclusive of everyone that had some form of recognition for independent retailing, in the hope that Independent Retailers Month would become the umbrella for all. Hence, what had been a week for each of these two individuals and their groups became a month for everyone.
Bannigan explains, "We decided to open it up globally, with a big focus on the U.S. market, and turn it into an initiative for all independent retailers." With Bannigan and her colleagues unable to visit every retailer, she is encouraging everyone, everywhere, "to send out invitations, set up promotional banners, and run events themselves to promote local retail business." Shay emphasizes, "In this world of sameness, it is the independent retailers that bring products and services that are fresh, unique, and desirable to those that want to experience originality. These same retailers are those that display a commitment to their community by the dollars they spend within their community. Without these independent retailers, there would be no reason for anyone to shop around, for there would only be the sterile and repetitive experience that chain store and mass merchants provide. We created Independent Retailer Month to celebrate those who give so much to their community and to the shopping experience."
Among the benefits of participation, local retailers receive the opportunity to have their products featured on Independent Retailer Month's website homepage, as well as being part of a widespread social media campaign. Independent Retailer Magazine and blog.wholesalecentral.com have been named the official trade media sponsors of Independent Retailer Month.
The website, independentretailermonth.com, continues to grow, with artwork available for anyone, proclamations for usage by local and state governments, ideas for celebrating, and information about how independent retailers and their communities have created their own unique celebrations.
For more information:
Nolcha LLC
350 Fifth Ave, 59th Floor
New York, NY 10118
Media inquiries: 888-665-2421
Retailer Organizations: 888-529-5907
Website: www.independentretailerweek.com