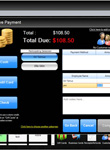 The specialty retail industry, twenty or thirty years ago, was most commonly associated with push carts used for selling impulse gift items. However, over the years the specialty retail industry has grown to be so much more. Sharing a similar evolutionary path, Nova originally started in 2002 as a training company, providing classes for business owners in the specialty retail industry on how to sell to impulsive shoppers, reorganize their business, and increase their revenue. And, while specialty retail has grown beyond carts and kiosks, now including temporary in-line stores and other ancillary income, Nova has progressed from its days of classroom consulting to helping independent retailers organize and manage their business in a more innovative way. Nova Point of Sale (POS) software, available as a risk-free trial followed by a monthly membership of $129.99 per location, replaces both cash registers and business management programs.
Nova POS Software Servicing Independent Retailers
There are no license fees and no contracts, and customers are free to install the program on as many computers as they want. Releasing a new free version every quarter, Nova's most recent offer is the Nova 3.5 software update. The software is completely customizable to fit any retail business type, including but not limited to electronic stores, gift shops, clothing stores, cell phone accessories, jewelry, toys and more. It is designed to help in the management of inventory, employees, expenses and customers with its 15 new features. Members who purchase the software receive unlimited access to the entire software and associated support, as well as free upgrades for life, training and setup.
As a free service, Nova also helps retailers find the best and most affordable hardware on the market. The recommended package for stores is only $899 plus shipping, and includes an 18.5 inch touchscreen computer with Windows 7, a cash register, thermal receipt printer, and credit card swiper.  Yet, retailers are free to purchase any of their own hardware or use what they have already. The MSI all in one 18.5 inch touchscreen computer with Windows 7 is simply recommended for the look of professionalism it provides at the POS. Nova, however, does offer for those looking to get started quickly and at a good value price, a basic starter kit called, Bring Your Own Computer (BYOC). The BYOC kit includes a cash register, thermal receipt printer, and credit card swiper for only $362 including tax and shipping for the U.S.
Along with Nova's software and hardware offers, Nova's Instant LIVE Support is made available to retailers as well. Simply, a click of a button and you are directly connected live to a certified Nova tech. Even with call-in tech support, average wait time is only 3.3 seconds. Retailers interested in seeing a free live demo are asked to call, and will be educated on how to increase revenue by up to 35 percent guaranteed.
For more information:
Nova POS Solutions
1688 Meridian Ave.
Miami Beach, FL 33139
Toll Free: 888-370-6682
Website: www.novappointofsale.com