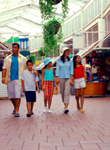 As big retailers downsize and small shops are on the rise, shopping malls are repurposing their space. Rather than adding in more shops, malls are taking an alternate route to entice a wider and larger population. Malls are driving foot traffic by turning shopping into a family-fun outing. Jungle gyms, water parks, ice rinks, and more are popping up at malls all over the world. These new attractions provide a place for families to be active and spend time together while also being a sought out destination for anyone old enough to shop till they drop due to their incredible layouts.
From an ice rink to a waterpark, West Edmonton Mall has an extensive list of family fun activities. West Edmonton Mall is located in Alberta, Canada and spans 3.77 million square feet, making it the sixth largest mall in the world. It holds the world's largest indoor amusement park with over 27 rides and play areas. They even have "an exact replica" of Christopher Columbus' flagship, the Santa Maria, which can be rented to host an event. Alongside these massive activity spaces is a shopping experience like no other with "themed streets" and hundreds of retailers. West Edmonton Mall is huge and by offering so many recreations they get more families in their doors than if they were to simply offer shopping. They have created an enticing destination for their customers that keeps them yearning to come back and explore more.
The Palisades Center is among the top 10 most visited malls in America and located in West Nyack, NY. They boast 16 restaurants, a bowling alley, the world's tallest indoor ropes course, and so much more. It is both a local attraction and an interest to tourists. They have over 15 fun attractions for people of all ages integrated with their retail space. Shoppers can enjoy a ride on a ferris wheel after a long day of shopping and fun-seekers can browse hundreds of stores after escaping the "Mystery Room." Malls with entertainment like Palisades Center's Indoor Speedway are not only getting more people through their doors, but appealing to every generation and demographic by having such a wide selection of things to do.
In Virginia Beach, Pembroke Mall focuses on activities to keep children entertained. They have a kids play area, kiddie rides, and a few more small attractions located throughout the mall. The small and dispersed activities make it more fun for kids to come along on shopping trips. Rather than dragging their feet they will be skipping ahead to hop on a ride. The kids play area also has benches for parents and caregivers to sit while the kids expend the rest of their energy.
Whether malls build an entire indoor jungle gym or add a few pastimes to break up a shopping trip, they are all acquiring more commerce by transforming into a family-friendly space. Retail malls and stores have become experiential with a focus on entertaining rather than simply providing products. By appealing to families and having activities that everyone will enjoy, malls are boosting foot traffic and getting more shoppers through their doors.