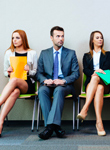 For independent retailers, providing an exceptional in-store experience is everything. In order to provide an exceptional experience, you also need exceptional employees. Kevin Walker, senior director for field marketing at Indeed.com, highlights the biggest challenges retailers face when hiring new employees, and tips on how to attract top talent.
In 2018, one of the biggest challenges is supply and demand. In his State of the Union speech, President Trump declared the U.S. is at the lowest unemployment rate in 45 years. Retailers simply have a smaller pool to pick from. In February 2017, the ratio of unemployed persons per job opening was 1:3.
The second biggest challenge retailers face, according to Kevin, is stiff competition. Retail is competing with every other industry, and it is "not known for being a high paying job." When it comes to wages, there is more competition than ever. Even within the retail industry, job seekers can apply to warehouse positions. Kevin says the average warehouse worker makes $19.60 per hour and works 42 hours per week, making 50% more than the average retail associate.
The third biggest challenge is that the role of a retail store associate is constantly changing. It is changing because our industry is changing. Associates need to learn and utilize new technology, implement new offerings such as buy online pickup in-store orders and maintain a high level of customers service. A constantly evolving role is hard to put on paper in a job description. It's also hard to train for. Kevin reports that 80 percent of retailers see a skills gap in prospective employees.
The good news? Independent retailers have an equal playing field with large companies when it comes to hiring. Job listing and candidate management tools such as Indeed are free to use. Make the most out of your hiring opportunities with these five tips:
1) Put Thought Into Your Post
Kevin says indie retailers can stand out by putting time into the job description. A lot of companies don't update their job postings regularly. Many more just write something quickly to get it up. A thoughtful and personable listing is the first step towards success.
2) Look at Your Brand Reputation
According to Glassdoor.com, 69 percent of job seekers will not accept a job with a company if that company has a bad reputation. You're already checking customer review sites like Yelp and Google. You should also check employee review sites like Glassdoor. The first step in improving your reputation as an employer is to know where you stand.
3) Act Fast
Kevin says less than 10 percent of employers respond to candidates within one day. The goal is always to respond as fast as possible. Candidates are applying for multiple jobs. Beat out the competition by responding setting up interviews right away.
4) Evaluate Your Compensation Package
"Salary is what it is," says Kevin. But there is more than salary to a compensation package. 42 percent of prospective employees consider work-life balance the most important factor. Benefits such as flexible scheduling and paid time off can be as compelling as the salary. As small businesses, you have the power and adaptability to put in place attractive benefits.
5) Treat Every Applicant Like a Customer
Kevin says the number one reason candidates give for a bad experience is not feeling like a human. It's important to respond to every candidate, whether you are interested in moving forward. A negative application experience leads to a negative view of your brand. Kevin says that especially in retail, many job applicants are also your customers. The bottom line is great employees come in all shapes, sizes, and backgrounds. After all, the most important qualities are those that can't be taught.