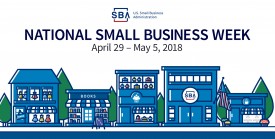 National Small Business week is happening now, April 29th – May 5th. Local Chambers of Commerce across the country work tirelessly year-round to promote local businesses. But, for these seven days out of the year, they kick their efforts into overdrive. Many towns and local organizations are hosting educational events and seminars as well as promoting their chamber member businesses to the community.
The President of the United States has declared a National Small Business week every year since 1963 to recognize the critical contributions of small businesses and entrepreneurs: this year is no different. President Trump released a statement saying, "Small business owners embody the American pioneering spirit and remind us that determination can turn aspiration into achievement." According to the report, there are nearly 30 million small business in the United States employing over 57 million people. Historically, small businesses are responsible for two out of every three net new jobs created in America. And, over half a million new small business are launched each year in the United States, creating more than 2.5 million new jobs per year, according to the Bureau of Labor Statistics.
The U.S. Small Business Administration runs point on National Small Business week, hosting an awards ceremony, entrepreneurial events, and virtual conferences. The virtual conference runs Monday – Wednesday and covers a variety of topics including changing consumer behavior, creating a strong social presence, video content strategy, how to grow your retail business through pop-ups, and more.
To learn more about the SBA's events and online educational seminars, click here.

National Small Business Week
April 29th – May 5th, 2018
www.SBA.gov