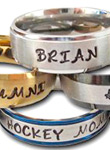 Sun Fashion Designs Inc. carries a wide variety of gold and silver plated jewelry, including rings, pendants, chains, cubic zirconia earrings, brooches and charms. The company's gold and silver bonding processes, performed in its Prescott, AZ facility, meet or exceed U.S. federal standards and produce fashions that radiate (and easily pass) as solid silver and gold pieces, says Gloria Witek, Sun Fashion Designs co-owner.
Stamped stainless steel rings, one of the company's newest lines, are among the hottest trends in jewelry, Witek shares. The rings are made of 316-grade stainless steel, are hypoallergenic, and can be completely customized with name, anniversary date, organization, sports team, symbol and more. To get retailers started, Sun Fashion Designs offers a starter kit that wholesales for $865. It includes the stamping machine, 100 rings, letters A through Z, numbers zero through nine, a hyphen and forward slash, an ampersand, an asterisk, a hammer and a paint pen. "You open the box and have everything you need to create 100 personalized rings," notes Brian Nelson, sales manager.
As for designs, "you name it, and we have it. For example, we have a cancer ribbon stamp, masonic stamps and crosses." Personalized stamped rings are great options for fundraisers, Nelson points out. "We are working with an organization with 300 members, and the goal is for each member to sell three rings. If they sell the rings at $20 each, that's a lot of money for the organization, because we wholesale them for $1.85."
Marketing materials are included with the kit, along with trade secrets about colors, styles and formats. "We include many ideas for retailers," Nelson continues. The company reveals, for example, how vendors can create the "Rainbow Ring," one of its most popular styles. Retailers also receive a step-by-step instruction manual, along with a training video on how to operate the stamping machine. The machine is incredibly easy to use, Nelson stresses. "On average, it takes less than one minute to personalize the ring for the customer. Anybody can learn to do it."
A few other popular Sun Fashion Designs selections include cubic zirconia earrings, often set in a micro pave style, a 14K gold bonded princess cut pendant, a blue sapphire cubic zirconia pendant and earring set, and a 14K gold bonded two-heart pendant with stones. "Our jewelry is very inexpensive," Witek reports, "and it gives retailers great margins, sometimes as much as 10 times wholesale cost."
Where to buy:
Contact Sun Fashion Designs, Inc.