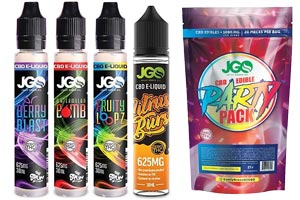 One of ILW Sciences' most popular brands, Jolly Green Oil, is launching a whole new line of cannabinoid products such as Delta 8, Delta 10, THCO, THCA, and THCP. Now, on top of their high quality CBD merchandise, retailers can offer their customers this new variety in the form of chocolates and gummies.
The Next Best Thing in the Cannabinoid Market
While Delta 8 has been around for some time, Delta 10, THCO, THCP, and THCA are the newest compounds to enter the market. Like CBD, Delta 10 is a cannabinoid derived from cannabis and interacts with the body's endocannabinoid system to offer psychoactive effects, according to The Observer. THCO stands for tetrahydrocannabinol acetate, another cannabinoid derived from hemp, and is synthesized specifically to be stronger and more powerful than Delta 9 or Delta 8.
THCA, or tetrahydrocannabinolic acid, is a cannabis compound that is beginning to demonstrate therapeutic potential and, unlike THC, THCA is non-intoxicating. Lastly, THCP, or tetrahydrocannabiphorol, is a natural cannabinoid and is thought to be 33 times more active at cannabinoid 1 (CB1) receptors than THC, causing an intense and intoxicating euphoric high.
One of the Most Popular CBD Brands
On top of these great new cannabinoid products, Jolly Green Oil also sells other CBD items including oils, vape juice, pre-rolled flower, oil for dogs, beard oil, and gummies. A fan favorite at ILW Sciences, Jolly Green Oil has pulled off just that by producing a line of sensational edibles, each coming in the form of lip-smacking candies. Their CBD vape oil and tincture options know how to start the hemp party, too.
High Quality Standards
Jolly Green Oil launched in 2017 with the goal of producing quality plant medicine at affordable prices. In 2019, the company joined forces with ILW Sciences to use their vast knowledge in the nutraceutical industry to create some of the most advanced plant medicine products on the market. Now, Jolly Green Oil has all of their merchandise produced in a ISO & certified Clean Room, 3rd party lab tested, and are CGMP compliant.
ILW Sciences
www.ilwsciences.com
Jolly Green Oil
www.jollygreenoil.com