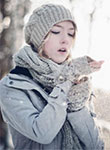 Supplying everything from bath bombs and hair accessories to pillows and blankets, Gertex USA has everything you need to keep your boutique fresh and up-to-date with the latest styles. The Canadian-based company started off selling hosiery such as socks and panty hose, and eventually expanded into cold weather gear, some apparel, and accessories of all kind, according to Jeff Levy, Sales Director of the company.
Gertex USA is a combination of two Canadian sister companies: Gertex and Eyecandy. They are two separate product lines that come together under Gertex USA. Eyecandy, which has been in business for 10 years, mainly sells hair accessories for women and kids and other health and beauty products.
"We are dabbling with novelties, a travel line, and always expanding our makeup line," Maria Benamor, the Sales Director for Eyecandy, said. "Our typical products are scrunchies, brushes, combs, and some baby products."
Both companies are very well-known in the Canadian market and sell products separately, but in the U.S. they come together and distribute under Gertex USA. They sell their own private label brands such as Great Northern, Sophi, Day In Day Out, Snugabye, Densley & Co in boutiques and independent gift-type stores all over. Their main goal is to be a company that serves all different markets and degrees with varying price levels.
Now that stores are preparing for the fall season, Gertex USA's hottest-selling lines right now are their Buffalo Plaid and Camp collections. Wanting to establish a collection that focuses more so on lifestyle, they designed these lines with the thought in mind of relaxing at the cottage, and cozying up by the fire, or trekking through the wilderness in style. These products have a true Canadian feel to them. Some items include matching hats, gloves, and scarves along with their latest home textiles such as throws and pillows.
Some newer products launched from Eyecandy, which you can also get through Gertex USA, are their themed bath bombs, colorful hair scrunchies, hair bows, and jewelry. Their bath bombs are one of their most unique items, coming in galactic colors and glitter bombs, and will be sure to stand out and catch customers' eyes.
"We're all about keeping up with the changes in fashion, so every year we are looking to give stores innovative product," Cindy Phillips, the Creative Director for Gertex, said. "There is a basic business out there, but if you have a customer you want to keep coming back, you want to always give them new options to choose from."
For additional information please contact:
Maria Benamor, Director of Sales
Eyecandy Accessories Inc/ Gertex USA Inc.
Tel.: (416) 241-2345 ext. 303
Website: www.gertexusa.com