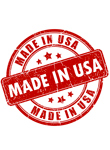 Keystone Wholesale Markets is a trade-only event offering retailers exclusively made-in-the-USA products. The show started in 2002 in Lancaster County, Pennsylvania as a way to help grow local businesses. To this day, Keystone Wholesale Markets is committed to only offering products that are made here in the United States and are of high quality.
The event provides retailers three shows under one roof including a cash and carry section, a furniture gallery, and an outdoor living area. Keystone Wholesale Markets takes place over two days in the Utz Arena at York Fairgrounds in York, Pennsylvania. Registration and parking is free to all retailers. Brandi Hurst-Sunday, show owner, recommends taking advantage of the free parking by bringing a truck or trailer to transport cash and carry purchases. "Candles, signs, prints, canned goods, florals, birdhouses, and home décor are all popular cash and carry products," says Hurst-Sunday. The outdoor living area "is the largest order-taking area of its kind," she continues. There are ample gazebos, sheds, play sets, lawn furniture, cupolas, and more available including products handcrafted by local Amish and Mennonite artists.
Though Keystone Wholesale Markets started as a local event, it now attracts retailers and exhibitors from across the country. "Even if you're a distance away, it's worth the trip," says Hurst-Sunday. "Our show is only forty minutes away from Lancaster County's Wholesale Mall and Lancaster County Showcase."
The next show, February 22nd – 23rd, will feature door prizes and second day buyer giveaway. There will also be "many new manufacturers and new products that are being featured for the first time," says Hurst-Sunday. Pre-registration is available and highly recommended. Retailers can register online or by contacting Hurst-Sunday directly.
Upcoming Dates:
February 22nd – 23rd, 2017