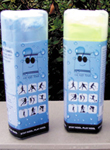 What's soft and comes in blue, hot pink or lime green, and when you shake it, it turns 20 degrees cooler than the air temperature? It's the Kool Towel from Ecotek America LLC, a new product that could attract many different sections of your customer base. This towel can be used by those who are hot and want to cool down quickly, people suffering from sunburn, women experiencing "hot flashes," and can be used in hospitals for burn relief. It can also be used to cool inflammation.
To start the process, a Kool Towel is submerged in water and draws in many times its weight of liquid. Once completely saturated, it is removed from the water. If you were to wrap the towel around your neck or put it on your shoulders at this point, it would not get you wet. What it would do is get you cool, as the temperature of Kool Towel drops. The towel will stay cool for about four hours. When necessary recharge the towel by flapping in the air a few times. When the towel begins to dry, submerge in water once again.
The towel's dimensions are 16.75 by 25.5 inches, and weighs 4.1 ounces dry. As for packaging, it comes in a clear plastic tube, with 50 tubes to the carton. For wholesale pricing call the company, because it depends on volume. The suggested retail price is $19.99. The minimum order is 18 Kool Towels, and Ecotek will customize the towels. Customization is available.
For more information:
Ecotek America, LLC
4630 S. Kirkman Road, #279
Orlando, FL 32811
Cell: 407-968-7359
Website: www.kooltowel.net