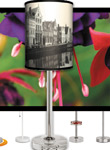 Whether a customer is passionate about sports, music, travel or décor art, Lamp-In-A-Box creates a unique selection of lamps that will light up their lives. Lamp-In-A-Box has nearly 1,000 designs, many of which are original artwork designed by the company's graphics team. It also has licensed products, such as Coca Cola, the Beatles, Ford Motor Co. and the Saturday Evening Post. In addition to its licensed collections, popular designs include the nature décor art, such as the Grey Stones and the Horsetail, and the Paris postcards, says Carleen Endres, office manager.
"People also can design their own lamps. They can use original artwork and choose the background color and base. We have six, good quality bases from which to choose, as well as the swag pendant hanging lamp, which is 16 inches in diameter and has a 15 foot cord." The lampshades are made of polyester and the lamp bases are steel.
Wholesale prices range from $13.95 to $39.95, and retail price is generally double wholesale. The minimum order is a case pack of four lamps. A point-of-purchase display is sold for $200 and includes four lamps. The Lamp-In-A-Box website has a wholesale webpage that displays all of the available images and item codes on one page. Retailers can filter by category, choose the images that are best for their customer base and print a contact sheet to compile a catalog. The lamps are handmade in Los Angeles.
Where to buy:
Lamp-In-A-Box
2023 West Gage Avenue
Los Angeles, CA 90047
Tel.: 323-753-7878
Visit:
www.lampinabox.com