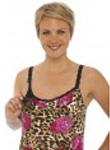 Style is important, whether it is in ready-to-wear or intimate apparel, says Meryl Kutzin, VP of Merchandising and Production at Q-T Intimates. "In fall and holiday 2013, as well as in spring 2014, the customer will find that satin fabrics and deep, saturated colors are essentials for intimate apparel. The neon colors may be stepping back a bit, but you'll still see the brights and jewel tones, such as mulberry, plum and teal, as big trends for the holidays."
Q-T Intimates gathers information on fashion trends from several sources, including the intimate apparel shows in Asia and in Europe, as well as a trend forecasting service, and brings everything back to its New York design team. "We have our hands on what is trending in the market in both intimate and ready-to-wear because that is a great influence on what we create as far as color and design," Kutzin shares.
Garment structure is crucial as well, and the company is fully dedicated to fit and function. "We know that regardless of what price a woman pays for her undergarments, she wants to get value and quality," Kutzin remarks. "We've been in business for 68 years, and our products are made with the highest quality standards." Q-T has a full-time quality control agent working at its factories in China, and it handles all of the fit, design and color processes stateside. Q-T Intimates' design and technical studio is part of its wholesale showroom at 152 Madison Avenue in New York City.
Innerwear for any woman, any event
Q-T Intimates offers a wide selection of products that encompass fashion, basics, plus, a ballet and dance line, bridal, shape wear, a nursing line, post-surgical garments and accessories. It is also the sole licensee for the worldwide distribution of the nursing bra line La Leche League International Intimates.
"Our new line, Crème Bralée lingerie, is our full-figure fashion line dedicated to women who were previously unable to find the combination of size, style, price and quality in U.S. retailing," Kutzin continues. The Crème Bralée line is doing very well, she adds. "It's the right line, at the right time, at the right price." Crème Bralée apparel, designed like a European line that would retail for $60 to over $100 per piece, retails for around $35 to $40 each.
The La Leche League line of nursing and maternity wear retails for $20 to $30 per piece, whereas designer nursing bras are in the $50 to $60 range.  Wholesale prices for the Q-T line, in general, start at around $6 for bras and $3 for panties.
Markup is typically around 56 percent for the Q-T line and 60 to 62 percent for the La Leche League and Crème Bralée lines. "I have a strapless bra in my Q-T line, however, that goes out at 80 percent markup because it's a really good value compared to what's available elsewhere," Kutzin comments.
Customer service for independents' needs
The minimum opening order is $300 with $100 reorders. "As a small business, we have the advantage of being flexible. We'll work with our customers to make sure they get exactly what they need," Kutzin stresses. "Our customer service team is great. We try to process and ship all of our orders in three to five business days from our New Jersey warehouse." Furthermore, the company offers trade show specials and occasional promotions. See Q-T Intimates' ad in this issue for the company's current special offer.
Where to buy:
Q-T Intimates
496 Kinderkamack Rd.
Oradell, NJ 07649
Toll Free: 888-937-2727
Tel.: 201-986-7800
Visit:
www.qtbras.com