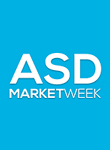 Las Vegas Market and ASD Market Week announced the continuation of their successful "Two For Tuesday" collaboration on Tuesday, July 31, 2018, in Las Vegas bringing together the collective resources of two major tradeshows. The fourth edition of "Two For Tuesday" provides buyers with free and continuous shuttle service between the two exhibit venues – the Las Vegas Convention Center and World Market Center Las Vegas – as well as free access to both wholesale markets.
"ASD Market Week is thrilled to be collaborating with Las Vegas Market once again to offer buyers the two-for-one show access between our markets," said Camille Candella, Vice President of Sales & Marketing, Emerald Expositions. "We are committed to providing the retail industry with a market week filled with buying opportunities. In working together, ASD and Las Vegas Market provide retailers a greater return on their shopping investment when coming to Las Vegas. They will have access to thousands of gift and home vendors across both shows as well as suppliers of fashion accessories, jewelry, and general merchandise, ultimately making their buying trip much more successful."
Las Vegas Market features lifestyle-oriented and design-driven gift and home décor products across all price points. ASD features great impulse buys and high margin opportunities in fashion, gifts, novelties and more. Together, the two events present more than 4,800 unique resources for buyers. Minimal overlap between ASD's exhibitors and Las Vegas Market's permanent showrooms and temporary exhibits creates an unparalleled incremental buying opportunity for global retailers across differentiated, but related categories.
"Since we launched "Two For Tuesday" in 2015, it has been an added benefit at no additional cost for Las Vegas Market buyers and suppliers," said Dorothy Belshaw, President of Gift Leasing & Chief Marketing Officer, International Market Centers. "This continuing partnership with ASD is a win-win for our customers – buyers can access additional resources and exhibitors gain exposure to new channels of distribution – and increases the return on investment for buyer and suppliers alike."
Show dates and hours for each of the two markets follow:
ASD Market Week – July 29-August 1, 2018 (Sunday-Wednesday)
Las Vegas Convention Center
www.asdonline.com
LAS VEGAS MARKET – July 29-August 2, 2018 (Sunday-Thursday)
World Market Center Las Vegas
www.lasvegasmarket.com
Complimentary, and continuous, shuttles will run between the two Market venues – World Market Center Las Vegas and Las Vegas Convention Center, on Tuesday, July 31, from 9:30am to 6:30pm. For Las Vegas Market information and registration, visit www.lasvegasmarket.coml; and for ASD Market Week information and registration, visit www.asdonline.com.