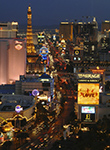 Las Vegas is renowned for it's glitz, glam and excess of all kinds – and if you're in the market for wholesale souvenirs, it's also the place to host the industry's biggest game. This September Urban Expositions will expand their powerhouse show by an additional 10% of floor space and products, bringing the already huge show up to mammoth proportions. Boasting over 1,300 booths of merchandise covering every possible item of interest to a souvenir/resort buyer, the 11th annual show will be held at the Las Vegas Convention Center's South Hall, 3-4, from September 18 through the 21st.
"The Las Vegas Souvenir & Resort Show kicks off the industry's buying season," notes Urban Expositions Vice President, Souvenir, Donna Guess. "From a relaxed, fun atmosphere conducive to the relationship building that is so important in this sector, to an unrivaled selection developed with the unique needs of the resort/destination buyer in mind, this has truly become the 'can't miss' event for anyone in the business."
The show includes expanded selections of popular favorites like destination, resort, and tourist merchandise, green products, t-shirts, beachwear, logo products, giftware, toys, games and much more. The hot-selling Made In America category will also be well represented, with the pavilion dedicated to these items also expanding for the September show.
Also of note, due to buyer feedback and repeated requests, the Hawaii pavilion, which debuted in 2015, will return in 2016. Sponsored by the State of Hawaii Department of Business, Economic Development and Tourism, the pavilion will showcase a range of products categories from leading Hawaiian manufacturers and artisans.
If you are a member of the nationally acclaimed buyer group, ZAG, Zoos And Aquarium Buyers Group, the association will be holding several member networking events and will also hold a hospitality suite throughout the duration of the show.
For retailers interested in attending the newly expanded show, Urban Expo has arranged special price reductions on Las Vegas hotel accommodations for as low as just $25 per night at the Westgate Las Vegas Resort & Casino. Please contact the hotel directly and let them know you're attending the Las Vegas Souvenir & Resort Show to lock in this amazing bargain.
For additional information on registering to attend the show, please contact Lisa Glosson, Urban Expositions at 678-285-3976, via email at lglosson@urban-expo.com or register on the web site at www.lvsouvenirshow.com