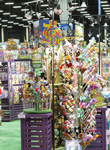 It was recently announced in August that Emerald Expositions, owner of ASD Market Week and Surf Expo, has acquired the International Gift Exposition in the Smokies (IGES®) and the Souvenir Super Show from Toledo, OH, based M&M Gift shows. Independent Retailer caught up with M&M to discuss the exciting news and upcoming show.
"For the longest time we've had great respect for the Emerald organization and their shows in our market," says Susan Mills of M&M Gift Shows. "Jerry and I look forward to being actively involved through this November's show and will then provide our support and insights through the transition to Emerald and next year's show."
Jerry Mayer, co founder of M&M with Susan Mills, adds, "This is the right time for us to pass the baton to Emerald, an organization which has a great affinity with our buyers and sellers, and very professional in the way it operates. We are proud of the show we have built and we expect Emerald to take the show to the next level and deliver even greater value to our exhibitors, our attendees and our staff."
IGES® joins Emerald's Gift, Home, and General Merchandise brands, managed by Emerald Executive Vice President, Karalynn Sprouse.
---
IR: Can you tell us a little bit about the returning suppliers that will be at the show? We know many buyers look to set up appointments and visit with their favorite suppliers – will many wholesalers who were at the show last year be back again?
M&M: IGES® is proud to continue the tradition of hosting the biggest names in the industry. With a very low supplier attrition rate, IGES® has expanded again this November in the Sevierville Convention Center to accommodate new exhibitors – currently 130 new exhibitors and counting.
Many familiar faces will be exhibiting this year including industry favorites such as Aurora World, Squire Boone Village, The Petting Zoo, A.T. Storrs, Driftstone Pueblo, Wishpets, E.M.I. Sportswear, Gib Carson Associates, Lazy One, Boulder Canyon Apparel, Foland Group, Basix, Lagaci, Souvenir Source, Safari, Ltd., MayRich Company, Exist Sportswear and many more.
---
IR: You've told IR that this year you are expanding the Made In The USA, handcrafted and custom name-dropped offerings. Can you elaborate on that and tell us a bit more of what buyers can expect at the show, and what vendors will be exhibiting?
M&M: This November, vendors in the Made in America & Handcrafted Section will also have special floor decals, making them more visible for buyers overall. Our sales staff has scoured the nation, finding the biggest and best new vendors to include in our show. Presently 130 NEW vendors and counting! We are featuring vendors with new products in the following categories: plush, apparel, mugs, educational toys, personal care products, specialty art and more. Many of these vendors fall into our Made in America category and are able to customize and name-drop.
---
IR: IGES® and SSS are famous in the industry for your hospitality, generosity and warmth at both show locations. What kinds of buyer delights are you planning for this November's attendees?
M&M: From simple perks like free onsite parking at both show locations and courtesy parking lot shuttles, to drawings for cash prizes and vendor gifts, IGES® has it all. We will again offer our fleet of complimentary show shuttles to make travel between all show locations in the Smokies as simple as possible. We will also be printing the contact number for our shuttle service, Rocky Top Tours, on the backs of all IGES® buyer badges this year.
As for additional fun for our attendees, we are planning IGES® Opening Day Giveaways – 400 Buyer Bags – awarded to the first 200 people in attendance in Sevierville & Pigeon Forge on opening day.
Complimentary coffee and pastries will be served each morning at both convention centers, tasty luncheons throughout the week, various vendor giveaways, like the Shop & Win with Silver Nugget, Shop, Sip & Win in Pigeon Forge, Wine Walk (on opening day) in Sevierville and more.
---
IR: For a buyer who has not yet attended your show, what would say to them to attend the show in Tennessee this November?
M&M: With expanded floor plans, order-motivated events and even more exhibitors this November, IGES® has it ALL! With more than 1,200 booths between our Sevierville and Pigeon Forge locations, buyers are encouraged to spend plenty of time at each venue.
IGES recommends both seasoned buyers and retailers new to the trade attend all buyer events and take part in various buyer giveaways to make the most of their time. Join IGES® this November 1-5, where southern hospitality is more than a courtesy, it's a way of life!
For a complete listing of events, a full list of vendors exhibiting at the shows, and the latest in product and show news visit www.iges.us or find them online on Facebook.