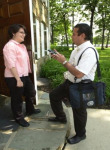 Sales of goods at the wholesale level held steady over the last month but rose substantially over the year, according to the most recent data from the Census Bureau. The Monthly Wholesale Trade report revealed that sales in May 2010, the most recent month available, fell just 0.3 percent compared with sales in the previous month, but sales rose 15.1 percent compared with U.S. wholesale sales a year ago, in May 2009.
According to the Economic Populist website, the 03. Percent month-to-month drop is the first in 14 months.
The rise was pushed primarily by sales of raw materials and durable goods. For year-to-year comparisons, cars and trucks rose 25.4 percent; computers, 23.7 percent; metals, 39.4 percent; chemicals, 20.5 percent, and petroleum, 45.9 percent.
The news was not as encouraging for more retail-oriented product categories. Apparel fell 0.2 percent on the month and rose 4.2 percent on the year. Drugs rose 1 percent on the month and were flat on the year. Paper products fared worst, falling 0.7 percent on the month and also falling 0.6 percent on the year.
Total dollar sales of wholesale goods in the United States were $350.6 billion for May 2010, with durable goods accounting for $161.2 billion and nondurable goods at $189.5 billion.