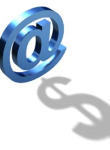 Online retail sales jumped 14 percent in the first quarter of 2010, according to an AdWeek report citing U.S. Census Bureau estimates. That would total $36.6 billion dollars in e-commerce sales by U.S. online shoppers in the first three months of the year. AdWeek also reports that total online retail sales should grow a projected 12.7 percent over all 12 months of 2010, to $152.1 billion.
Somewhat more conservatively, ComScore, an online metrics and digital marketing company, reports that for the first quarter of 2010, e-commerce sales rose 10 percent compared with the same period a year ago. Online spending in the United States totaled $34 billion, up from $31 billion a year ago, the firm reports. That's the first time the percent growth rate has hit double digits since the second quarter of 2008.
"While these spending gains provide reason for optimism, we should note that upper-income households are currently shouldering much of the growth," says ComScore chairman Gian Fulgoni in a press release. "Should the economy falter in the second half of the year and upper-income consumers return to a savings mode, we could still see growth decelerate. But for the time being, this momentum is encouraging."
According to ComScore, bigger online retailers saw higher growth rates than smaller retailers, but the smaller e-retailers are beginning to see positive growth after a period of contraction.
Looking ahead to total retail sales in the second quarter, the Deloitte Consumer Spending Index anticipates sales gains in April, as the Index has reached its highest level in six years. And Reuters recently reported that analysts expect May same-store sales to rise 3.8 percent, compared with a decline of 4.8 percent in May 2009. Standard & Poor's is projecting total retail sales to grow 2.5 percent in May, excluding fuel. The International Council of Shopping Centers is expecting a 2 percent gain for the month.