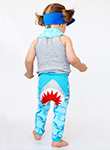 "I created Doodle Pants when I couldn't find any clothes for my son," says Doodle Pants founder Lorain Herder. "I figured I couldn't be the only one, and this product would help take away that challenge for other parents." Doodle Pants is a clothing company for newborns and toddlers that carries uniquely designed leggings, t-shirts, hoodies, bodysuits, dresses, and hooded towels. "You can laugh or you can cry," is the official slogan of Doodle Pants. Parenting is hard. Herder believes that the job is a little easier with the right tools.
Design
Doodle Pants are designed to stand out. Colorful shapes, loud patterns, and playful characters are part of every clothing piece. Their signature leggings feature various monsters, dinosaurs, and animals, many with the creature's features enlarged over the bum. "It's a lot easier to laugh when the object of your ultimate joy/crushing despair has a skateboarding dinosaur on his or her little butt," says Herder.
When asked where the inspiration for her designs or 'doodles' come from, Herder says, "Nature inspires me, my kids inspire me, and my customers inspire me. We go to a lot of trade shows and really listen to what customers want. We ask what they think will work well in their stores. We also pay attention to the fashion industry. We spend a lot of time making sure our designs are what moms really want. All the designs are unique, original, and can't be found anywhere else."
Quality
In addition to quality designs, Herder also pays close attention to the details that make children's clothing unique. Their leggings are cut to fit over cloth diapers, their shirts don't have the scratchy tags that irritate babies' skin, and all bodysuits have easy on and off snaps. "Our leggings are super stretchy," continues Herder. "They last longer than clothes normally do for kids."
Doodle Pants are available in polyester and cotton options. "Each year we do a new collection and make new designs," says Herder. The monster designs have been "doing fantastically."
Following
Though Doodle Pants is only in its fourth year of operation; it has gathered quite a large following. In addition to being photographed on many celebrities' children, Doodle Pants has also been featured on major news outlets such as The Huffington Post and Fox News.
Their standout designs have earned the company a lot of attention on social media. Over 109,225 Facebook users follow the Doodle Pants page, which posts new designs, hosts contests and giveaways, announces trade show updates, and of course features many newborns and toddlers wearing Doodle Pants clothing.
How to Order
"We have a low order minimum and open stock on all products," says Herder. Doodle Pants come in just three sizes ranging form newborn – 3T, and orders have a $200 minimum. "We typically hear back within a couple of weeks that customers initial orders have sold through," says Herder. Clothing items retail for $25 and wholesale for $9 – $9.50, offering retailers a sizeable profit margin.
When it comes to merchandising Doodle Pants, "We've noticed that if retailers find a place high on the walls where they can hang a clothes line against the wall and put our products up with cute little hooks it really grabs a lot of attention," says Herder. "If you don't have that kind of space, our products really stand out for themselves," she continues. "They are hard to miss."
For more information and to view their products, visit www.DoodlePants.com.