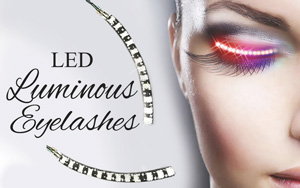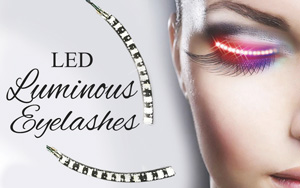 Foxyware creates unique personal beauty designs that combine the latest appliqués such as Swarovski crystals, rhinestones, rhinestuds, nailheads, sequins, and pearls with fashion-forward apparel and accessories. Foxyware offers a variety of standout t-shirts, dresses, tote bags, belt bags, and a new line of rhinestone coffee mugs.
One of Foxyware's newest and most innovative product lines are their LED eyelashes. LED Glowing Luminous Lashes are safe, lightweight, reuseable, and easy to apply. They do not get hot or harm your eyes. Each eyelash set comes in a tiny box with a controller unit for each eyelash, a battery, clips, and eyelash glue. Users clip the controller underneath their hair in the back of their head and press the controller button to switch lighting modes and turn the LED lights on or off.
The eyelash boxes are customizable, so retailers that purchase LED Glowing Luminous Lashes can place their store name or logo on the products. Eyelashes come in blue, pink, red, white, green and orange. Minimum order for custom packaging is 50 pieces.
Foxyware does not charge setup fees or art fees for wholesale orders. They also offer free proof corrections and quick turnaround times. Transfer products such as rhinestone t-shirts have just a 12-piece minimum. Contact Foxyware for more information and to open a wholesale account.
Foxyware
Tel.: 877-241-6134
foxyware.com