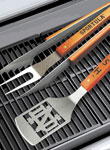 The Wildman Business Group, a third generation family owned business based in Warsaw, IN, has seen much success in its Sportula Products venture. David Bazzoni, developer of Sportula Products, and his team have put a lot of effort into the subsidiary over the past year, to make sure the company is truly offering something new and fun with its licensed tailgating tools. It's first product, the Sportula, proved to be a great impulse buy for tailgating fans looking to flaunt their team pride in a unique way. "The Sportula is one of a kind," says Bazzoni. "It is an 18 and a half inch laser-cut hamburger flipper, with a bottle opener at the end."
Sports fans and tailgating enthusiasts, however, have more to flip over than burgers, with Sportula Products' newest addition, Boasters. While reminiscent of a coaster, a Boaster sports a heavy duty stainless steel design with cork backing, and the logos, letters, and artwork are laser cut into the stainless steel surface. Following suit with the Sportula, Boasters will be organized into six product lines based on six themes. The Collegiate, NASCAR, Patriotic, Corporate, Greek, and Enthusiast lines feature university logos, racecar drivers' numbers, military service, college fraternity letters, and generic guy-friendly images. And now, just in time for baseball season, Sportula Products has closed a licensing agreement with MLB, offering fans an opportunity to buy Sportulas and Boasters with their favorite team logos.
Wildman Business Group offers over 100 variations on both products; a marketing dream for retailers looking to customize a display for their store. Bazzoni notes that the ability to customize a floor or counter display with product that appeals to a particular demographic is key. "We designed a brand that will fit the needs of any retailer in any location," he says. For example, a retailer might customize a display with a college logo from a nearby university, with #1 Dad and #1 Granddad near Fathers' Day, and so on. The 18 unit counter display and 36 unit floor display are free, when retailers buy sufficient quantities to fill them. And to enhance a store's new tailgating department, a free display with the purchase of 18 Boasters can be ordered, to sit on top of each Sportula display.
A number of purchasing programs are available, in which both the Sportulas and Boasters are available for under $15 wholesale. A Sportula and a four piece Boaster set, featuring a licensed cut out, will both retail for $24.99. Wildman Business Group favors personal interaction with its customers, and continues to practice this with its sales team. The Sportula website is not set up for the wholesale trade. "For retailers, the site can serve as a catalog and a contact page," Bazzoni adds.
For more information:
Wildman Business Group
800 South Buffalo Street
Warsaw, IN 46580
Toll Free: 888-713-5343
Tel.: 574-306-4731
Website: www.sportula.com