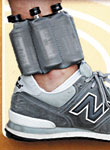 With tailgating sports fans, concert goers and ticket-holding event attendees in mind, The Bootlegger was invented as an alternative to the expensive, watered down drinks found at stadiums and arenas nationwide. "We would rather take our own drinks with us. It saves tons of money, and I know what I'm getting," says sales representative, Mitchell Snow. "The concealable elastic band, known as The Bootlegger, allows event goers to store six mini bottles under any pant leg." Snow admits, however, that the bootlegger has other useful purposes. "I wear it to the gym to hold my iPod and keys, or to store a five hour energy drink," he adds.
Since its development one and a half years ago, and keeping costs in mind, The Bootlegger is now also offered as a kit. The kit includes not only The Bootlegger band, but also bottles and a pouring device, allowing users to fill the bottles with their favorite spirits. The bottles can then be recycled and reused. The Bootlegger is made of an elastic band and fits comfortably, with six pockets to hold bottles securely. The band is available in five colors, including red, gold, orange, burgundy and grey. "It may be simple in design, but it is practical," says Snow. "Now event attendees can carry the bar with them, saving money and having fun, but are always advised to drink responsibly."
Retailers must purchase by the dozen, or six and six of individual Bootleggers and kits. The single Bootlegger is $5 apiece wholesale, while the kit is $10. "Retailers can easily keystone the price of both products," notes Snow. "Large volume discounts are available, as well as new customer discounts." Products will be shipped from Asheville, NC, and while displays are not currently available, each Bootlegger is individually packaged in a durable clam shell package.
For more information:
Bootlegger
Tel.: 252-412-5260
Website: www.trybootlegger.com