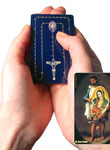 Iconeum LLC, with a mission to promote Catholic faith through Catholic oriented merchandise, has chosen a number of ways to spread The Word. "We carry a broad range of religious products, including rosaries, crucifixes, icons, prayer cards, catholic stickers, keychains, statues, saints bracelets and other catholic jewelry," says Jerry Cwiklik, owner of Iconeum. "This merchandise would be perfect for religious or general retail stores, convenience stores, dollar stores, kiosks, flea markets, online retailers, and much more." And while Christian and inspirational products may not be a common category in every retail market, there is the chance of tapping into an unknown customer base, as 94 percent of Americans say they believe in God, and 50 percent use inspirational products.
The newest addition to Iconeum's lineup is the Rosary Card, a new rosary for the new millenium. Iconeum's Rosary Cards, or rosaries for the wallet, is a unique devotional item featuring a rosary on a plastic card. Identical in design and finish to any standard credit card, it features a holy image on one side and three dimensional rosary beads on the other. "The beads are raised over the surface of the card like Braille. We offer many traditional Catholic images in our standard catalog," adds Cwiklik. Custom images can also be printed at no extra cost, but are subject to a minimum order quantity of 500 cards, otherwise the minimum is only $100.
Each Rosary Card wholesales for $1.65, and retails for at least keystone. "We offer competitive pricing and terms to bring your business more profit," says Cwiklik. While there is no POP display available at this time, Rosary Cards make for a great impulse buy at the counter. Customers looking to save more on this already low priced Catholic merchandise can access promotional discounts by signing up for the company's email blasts.
For more information:
Iconeum, LLC
PO Box 571
Mohegan Lake, NY 10547
Toll Free: 800-741-7754
Website: www.iconeum.com