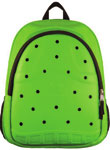 "Optari" comes from the Latin word "optare" (pronounced "optari"), which means, "to desire." "Our goal is to develop products that are fun, colorful, useful, and most of all, that people desire. And our product line is growing rapidly," explains Optari LLC's company website. First established in early 2010, Optari has grown from a family-owned home-based business to distribution throughout the U.S., and in more than a dozen countries. While some products are newer than others, Optari's product lineup is still fresh and new to most of the retail industry. "We began with our line of versatile, customizable tote bags, and added a wristlet and backpack to the line in 2011," says Jeremiah Pent, president. "And we just introduced our new handmade bracelets, known as Spikeletz." Optari's new bracelets are colorful, soft, and stretchy, and come in 32 fun, spiky designs. Spikeletz are $2.50 apiece wholesale, and sell for $190 with a display of 72 bracelets.
"Our popular Sol Totes come in two sizes and lots of colors. Durable, waterproof, and easy to clean, our customers use them for all sorts of things, including diaper bags, beach or pool bags, gift bags, lunch totes and more," adds Pent. "Once you've chosen your tote, it can be customized further with our Fobbz and Mini Fobbz charms collections." Fobbz are large charms (four inches) that feature a rivet in the back of the charm that plugs into the holes on all Optari products. Though originally designed for the Sol Tote line, they fit all Optari products. Mini Fobbz do the same, but are smaller in size (two inches). Destined to be the coolest pack at school this fall, Optari's new backpack features two large internal compartments, one large internal pocket, pockets for pens, side net pockets, and a front panel for collecting Mini Fobbz. Backpacks are available in six colors, and sized comfortably at 6 x 13 x 17 inches.
Totes wholesale for $7.50 (small) and $10 (large), wristlets for $6.50, and backpacks for $15. Fobbz charms for the totes are $2.50, and sold in four packs for $10. Mini Fobbz, for backpacks and wristlets, are $1.50 and sold in four packs for $6. "All products may be purchased wholesale at optariwholesale.com. Most retailers simply double our wholesale prices," adds Pent. An initial order requires a minimum of $200, but reorders are only $25. "There is free freight on orders over $500, and volume discounts on a case by case basis," says Pent.
For more information:
Optari LLC
320 Premier Ct. S, Ste 222
Franklin, TN 37067
Toll Free: 877-376-4972
Tel.: 615-807-2445
Website: www.optariwholesale.com